Apple Watch Apps Begin Showing Up in the App Store Ahead of Apple Watch Launch
Ahead of the Apple Watch's upcoming April 24 launch, apps that include Apple Watch support are beginning to be released in the App Store. As of today, several popular iOS apps have been updated with built-in Apple Watch apps, including Evernote, Dark Sky, Things, and Target.
Additional apps with Apple Watch support will be rolling out over the course of the day, giving us a first look at how many of the apps on the device will function. We'll be updating this post with a list of Apple Watch apps that are available as they come out in the App Store.
Apple has already shared information on many third-party apps that will be available for the Apple Watch, but the updates coming today will give us a lot more information on how some of our favorite apps will take advantage of the App Store.
According to Evernote's app description, for example, users will be able to dictate notes into the Apple Watch, which will be transcribed and synced to Evernote. Users will also be able to see recently created, updated, and viewed notes, and get reminders about items that are due. Dark Sky's weather information will be brought to the wrist, and according to the app release notes, it's been designed from scratch to fit on the smaller screen of the Apple Watch.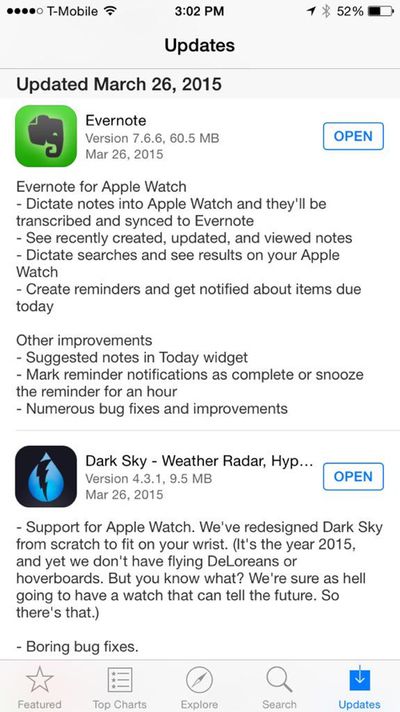 As we've mentioned before, Apple Watch apps are bundled into existing iPhone apps because the iPhone powers the app while a UI is extended to the Apple Watch. This helps to preserve battery and it controls the amount of access developers have to the watch. Apps that run fully on the Apple Watch are coming in the future, but are not available yet.
The Apple Watch will be available for pre-order and try-on sessions at Apple retail stores beginning on April 10. Third-party Apple Watch apps have likely started popping up today to allow Apple Store employees to install content on demo Apple Watches that will be shown off to customers.
Here's a comprehensive list of Apple Watch apps available with a brief description of what they'll do:
- Evernote: Users can dictate notes, get reminders on to-do tasks that are due, and see recently created/updated notes.
- Sky Guide: Displays a calendar of upcoming astronomical events, like the full moon, meteor showers, and eclipses. Also sends notifications when an event is about to happen nearby and gives alerts when the International Space Station is flying over you.
- Dark Sky: Displays Dark Sky's weather information on your wrist.
- Target: Lets you build a shopping list on your Apple Watch, and tells you where to find items in the store. Also has a glance view for seeing when a local store is open, how many items are on a list, and what deals are available.
- NYTimes: The New York Times' iPhone app gained Apple Watch support, and while there's no info in the release notes, Apple has previously shared that you'll be able to swipe through breaking news and short stories, use Handoff to read articles on your iPhone or iPad, and use "Save for Later" to build a reading list.
- Procreate Pocket: Procreate Pocket turns your Apple Watch into a remote control and color palette for painting on the iPhone. You can select brush, eraser, and effects, and perform tasks like undoing and redoing from your watch.
- WeChat: WeChat lets you read and reply to messages with text or stickers, read Moments from your friends, and make friends through Friends Radar.
- SPG Starwood: This app for Starwood Hotels & Resorts lets you unlock your door from your Apple Watch, get directions to the hotel, check in, and see reservation details.
- Kitchen Stories: Lets you discover recipes on your wrist, make and view shopping lists, and set timers to time baking and cooking.
- Redfin: This real estate app will display nearby listings with photos of homes, prices, number of bedrooms, square footage, and more. You can dictate notes into the app and share info with family members. There's also an option to contact a real estate agent to schedule a tour directly from the watch.
- Babbel: Language app Babbel is available on the Apple Watch, and will let you discover new words, unlock words by visiting different locations, and complete practice exercises to learn new vocabulary.
- Yahoo Tourney Pick'em: This fantasy app lets you see team overviews at a glance, get breaking news notifications, and check scores on your wrist.
- ECB Cricket: ECB Cricket's Apple Watch app displays live matches, offers scorecard information, delivers notifications after a Force Touch to enable them, and has a glance view for getting a quick look at scores.
- The Wall Street Journal: The Wall Street Journal's app delivers top news stories, alerts on when breaking news is posted, and market data.
- Transit: Lets users see departure times for public transportation directly on their wrists.
- MLB.com at Bat: Gives live stats, pitch-by-pitch updates, player details, highlights, and scores from your favorite teams.
- Runtastic Six Pack: This fitness app delivers workout instructions directly to a user's wrist and lets you know when a set has started and ended with vibrations.
- Expedia: Expedia's Apple Watch app will give notifications for flight status and gate changes, display hotel room reservation information, and it will offer upcoming travel details with maps and locations right on your wrist.
- Peak Brain Training: Peak's Apple Watch app lets you play brain games on your wrist. You can assess your attention and visual memory in 45 seconds from the app and play three brain improvement games.
- Lifesum: Lifesum's Apple Watch app lets you log meals, water, and exercise, plus it delivers tips, reminders, and exercise suggestions. You'll also be able to see your daily activity at a glance.
- Twitter: Twitter's Apple Watch app lets you Tweet, Retweet, reply, and favorite tweets from your wrist. You can also see recent Tweets and top trends, plus you can share your location, a song, or your thoughts from the app. "It's Twitter, but littler," reads the app description.
- Green Kitchen: This vegetarian recipe app lets you set timers on your wrist for whatever you're cooking.
- British Airways: British Airways will offer flight status, destination weather, and scheduled/estimated departure times via an Apple Watch glance. It will also deliver notifications on flight status and when a flight's gate changes (Heathrow Terminals 3 and 5).
- Hailo: Hailo for Apple Watch lets users request a taxi and track its progress as it approaches. The app also lets you see driver details and adjust a tip at the end of a ride. Hailo is available in select locations in the UK, Ireland, Spain, and Singapore.
- Wunderlist: The popular to-do app brings lists, agendas, and reminders to the Apple Watch with a new Home View, Reminders, easy Glance access to the Today Smart List and notifications for shared lists.
- Citymapper: Transit app Citymapper will show transportation information on your wrist, displaying A to B journeys and departure times. It'll also send status alerts.
- Air Canada: Air Canada's Apple Watch app lets you view flight status, boarding time countdown, check-in and boarding time notifications, and Passbook boarding passes, and also use Handoff to easily complete check-in from your iPhone.
- Tangerine Mobile Banking: Canada's Tangerine Bank is the first bank we've seen to launch Apple Watch support, with users able to view transactions and account balances through the device.
- Rules!: Puzzle game Rules! is bringing a daily brain workout mini game to the Apple Watch, which includes daily goals.
- Equinox: Fitness club chain will allow Apple Watch users to view club hours and info, book and view cycling classes, and track calories during classes.
- Japanese Translation: Speak English to your Apple Watch and your iPhone will translate it to spoken Japanese.
- The Globe and Mail: Canadian national newspaper will offer breaking news and top stories on the Apple Watch.
- CNN: Get breaking news alerts in twelve different categories on the Apple Watch, with easy handoff of articles and launching of live video on an iPhone.
- Weibo: Massive Chinese microblogging site Weibo is ready for Apple Watch with message notifications integration with WeiboFit exercise tracking system.
Other Apple Watch apps available that have not yet shared features include Qantas Airways, Onefootball, Line, Alipay, South China Morning Post, Invoice2go and, Pacer pedometer, Moneytree, and Things.