Apple Likely Building Apple Watch Demo Area at Yerba Buena Center
Apple is working on construction of an outdoor extension at the Yerba Buena Center for the Arts in San Francisco, as first reported by 9to5Mac. The tented space will likely serve as an Apple Watch demo area at the upcoming "Spring Forward" media event on March 9th, where Apple is widely expected to provide further details about the Apple Watch's features, pricing and release date.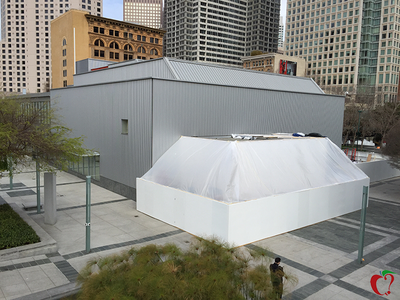 According to the tipster that submitted the original photo, there are security guards wearing "Apple Security" shirts monitoring the construction site, all but confirming that the external addition belongs to Apple. The company previously built a similar structure outside of the Flint Center as a demo area for the iPhone 6, iPhone 6 Plus and Apple Watch, so an exterior demo area would not be unprecedented.
Apple sent out invites for its "Spring Forward" media event earlier this week, and will also be providing a live stream of the event on its website for Mac, iPhone and iPad. The media event will take place at the Yerba Buena Center for the Arts in San Francisco on March 9th at 10:00 AM Pacific and should be focused on the Apple Watch ahead of the wrist-worn device's launch in April.