Tim Cook Will Give 2015 Commencement Address at George Washington University
Apple CEO Tim Cook will give the keynote address to graduates at George Washington University this May, the university announced today. Cook will speak on May 17 on the National Mall and was nominated for the honor by students earlier this year. The university also plans to give Cook an honorary doctorate of public service.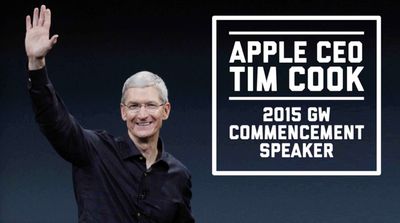 "I am delighted that Tim Cook has accepted our invitation to give this year's commencement address on the National Mall," George Washington President Steven Knapp said. "I know our graduating students will be inspired and enlightened by his reflections on the lessons he has garnered from his distinguished career as a highly effective leader at the forefront of technological innovation."

Cook's last commencement speech took place in 2010, at his alma mater Auburn University. At the time, Cook was Apple's Chief Operating Officer, and he took the opportunity to call working at Apple "the best decision I ever made." He gave a moving speech that emphasized the importance of intuition and how it led him to Apple.
Previous commencement speakers at George Washington University have included actress Kerry Washington, former New York City Mayor Michael Bloomberg, First Lady Michelle Obama, former President George H.W. Bush and former First Lady Barbara Bush, and Hillary Clinton.
It is not clear if a live stream of Cook's commencement address will be available, but George Washington University does typically share videos of its commencement events on Vimeo shortly after they take place.