A Look at Fuel Cell Technology With Intelligent Energy's 'Upp' Hydrogen Power Pack for iPhone
Fuel cells, which generate power via chemical reactions, aren't exactly new technology, having been invented in the 1830s, but they're seen by some as one of the next steps in the evolution of electrical power. In the not-so-distant future, we may adopt fuel cells for powering cars, homes, and a whole range of consumer electronics with clean energy.
Intelligent Energy is one of the companies working to further fuel cell technology in the consumer space, having recently introduced its first hydrogen fuel cell iPhone charger, the "Upp." MacRumors went hands-on with the Upp to give fuel cell technology a try, and we spoke to Intelligent Energy's Corporate Development Director Julian Hughes, who shared some details about Intelligent Energy's fuel cell ambitions.
The
Upp
, introduced in the U.K. in November, is a hydrogen micro generator that uses replaceable, refillable fuel cartridges to charge an iPhone. With a cartridge attached, the Upp becomes a PEM (polymer electrolyte membrane) fuel cell, which transforms the chemical energy freed during a reaction of hydrogen and oxygen to electrical energy to power an electronic device. Since it's using a chemical reaction to create power, there's an audible clicking noise as the Upp releases water vapor while charging.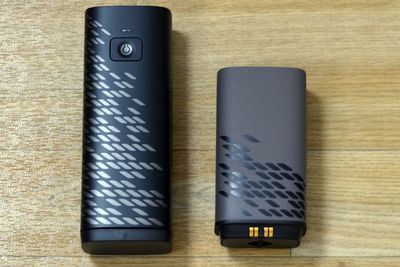 There are two main parts to the Upp: the base charger, and the fuel cell cartridge that it ships with. Using the Upp is as simple as popping the cartridge into the bottom of the charger, plugging a Lightning cable into the USB port, (not included) and then plugging in an iPhone.

A full fuel cell cartridge is able to provide up to five charges for an iPhone and the 5V/5W/1000mA output means it charges about as fast as a standard iPhone charger plugged into the wall. In practice, we saw 3.5 charges with an iPhone 6 Plus before the fuel cell was emptied, which can be tracked via a useful app the company has created.


Once a fuel cartridge's power has been exhausted, it will need to be refilled at one of the many refilling stations in the UK, because there's no way for users to refill fuel cells at home. One of the main reasons that fuel cell technology has yet to go mainstream is cost, and that barrier is still very much present with the Upp. On top of the £149 ($220) for the charger, it costs £5.95 (~$9) for each fuel cartridge refill.
Cost is the number one downside to the current iteration of the Upp charger, but bulk is also a negative factor. This isn't a charger that you pop in your pocket or your purse while you're out for the day -- it weighs over a pound, it's thick, and with the cartridge attached, it's much taller than an iPhone.


The major benefit to the Upp is that its fuel cell cartridges don't lose power over time like traditional batteries, which means they'll be available indefinitely for emergencies. Power on demand with no need to recharge is the most appealing aspect of the Upp -- it could come in handy in a serious emergency situation where no other power source is available because it can sit for over 10 years with no degradation. Intelligent Energy also markets the Upp for off-the-grid outdoor use cases like camping and sailing.
The current iteration of the Upp has some significant downsides when it comes to cost and size, but Intelligent Energy is committed to bringing fuel cell technology into the consumer space. According to Julian Hughes, in the future, the company will be able to produce smaller, cheaper, lighter fuel cells that will be able to power a whole range of devices from computers to wearable devices.
The company's long-term goal is to bring people true mobility and independence from the power grid, creating fuel cells for all sorts of electronics. Hughes used the analogy of a webcam to describe the company's vision. In the 1990s, webcams were large, standalone cameras that were prohibitively expensive, but overtime, both cost and size decreased until we were able to embed webcams in our laptops.
Hughes estimates that over the course of the next five years, we'll see some major steps forward in fuel cell technology, allowing Intelligent Energy to introduce new iterations of the Upp and other products without today's limitations. Today's Upp has limited usefulness, but the Upp of tomorrow could change the way we charge our phones.


Consumer electronics are just one area that Intelligent Energy is involved in. The company's also developing automotive solutions and it's launched hydrogen fuel cell power units in India that power cell towers.
If you're in the UK, you can purchase the Upp from the company's website. It costs £149.00 for a charger and a single fuel cell cartridge and £49.95 for an additional cartridge. Refills are priced at £5.95 and can be purchased at various locations in the UK.
Intelligent Energy has plans to bring the Upp charger to the United States in the near future, at a price point around $200, with refills that cost around $5.