New 'App Pins' Allow Users to Install iOS Apps Right From Pinterest's App
Pinterest today announced a new partnership with Apple to launch "App Pins" that will allow users to install iOS apps on their devices without ever needing to leave the Pinterest app.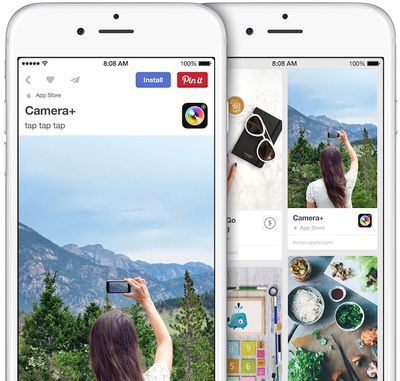 Let's say you're Pinning workout inspiration to your Marathon Training board. If you see a fitness app that helps you reach your goals, you can download it right from Pinterest.

When you come across an app Pin, tap Install to download the app right to your iPhone or iPad without ever leaving Pinterest (you'll only see app Pins when you're using the Pinterest app on your iPhone or iPad).
As part of the rollout, Apple is also launching its own App Store board on Pinterest, giving the company a place to feature apps on a variety of topics within Pinterest. Apple is currently featuring a number of apps and other pins focused on fashion and recipes, playing into this week's New York Fashion Week.
Pinterest
tells The New York Times
it believes it can be an excellent place for app discovery considering its role as a place where people come to share and discover things.
"We can be a really powerful service for app discovery, which is a problem that still really hasn't been solved," Evan Sharp, a founder of Pinterest, said in an interview. "Our specialty is really connecting people to the things they want to do." [...]

Pinterest believes it is better positioned [than Twitter and Facebook] to help promote apps because of the nature of the service. People come to Pinterest, the company says, to find new things to do, see and buy. That is unlike Facebook, which has been used to connect with friends, or even Twitter, which is often about public discourse and news.
The new App Pins functionality is included in a just-released update to the Pinterest iOS app, which is available free of charge in the App Store. [Direct Link]