Tim Cook: Our Objective With Apple Watch Is to Change the Way People Live Their Lives
Apple CEO Tim Cook spoke at the annual Goldman Sachs Technology and Internet Conference today, where he covered a range of topics from Apple's dedication to the environment, the major products the company launched in 2014, and his thoughts on the Apple Watch.
When asked by Goldman Sachs COO Gary Cohn what makes the Apple Watch different from other smart watches on the market, Cook recalled the MP3 industry.
If you think about the MP3 industry, we weren't the first company to make an MP3 player, there were lots of companies in this. They weren't used very much. They were fundamentally hard to use -- the user interface was bad and you almost needed a PhD to use them. They're not memorable. [...]

I see the smart watch category very much like that. There are several things that are called smart watches, but I'm not sure you could name any. There hasn't been one that changed the way people live their lives. At Apple, that's our objective. We want to change the way you live your life.
Cook went on to say that he believes the Apple Watch will do just that, impact people's lives in a meaningful way. He says that one of the major surprises will be the breadth of what the Apple Watch can do, and he expects that everyone will find something in the Apple Watch that they can't live without.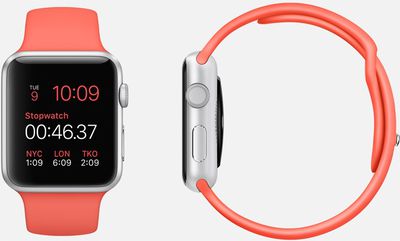 Cook highlighted the many design options for the Apple Watch, its "fantastic" look, and the innovative ways of communication that it will enable. Cook says that he "constantly" uses Siri on his Apple Watch, and that he uses it when working out to measure activity.
He also pointed out the feature that pings people when they've been sitting for too long, which he sees in use on a daily basis at Apple. During meetings, he says, towards the end of the hour, people will begin standing up as their Apple Watch alerts them to do so. "A lot of doctors believe sitting is the new cancer," he said. "Arguably, activity is good for all of us." Cook says that he is "super excited" about third-party apps that are being developed for the Apple Watch.
I think everyone's going to have their favorite thing, just like when the App Store came out. Remember the saying 'there's an app for that? There's an enormous number of things it will do.
Earlier this month, Tim Cook confirmed that the Apple Watch is still on track to launch in early 2015, with shipments that will begin in the month of April. Pricing will start at $349 for the lower-end version of the device.