During today's Goldman Sachs conference, Apple CEO Tim Cook announced that Apple is planning its "boldest, biggest, most ambitious project," yet in the form of a 1,300 acre solar farm in Monterey County, California.
The solar farm, which puts out enough power for almost 60,000 California homes, will provide enough renewable energy for Apple's new campus, every other office it has in California, all 52 stores in the state, and its data center in Newark, California. The solar farm is an $850 million project, which Cook says Apple is doing "because it's right to do."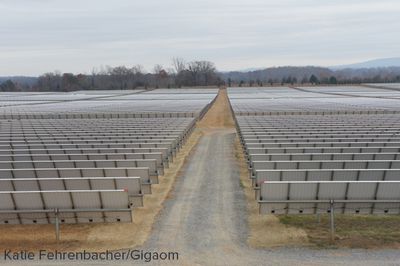 Image of Apple's North Carolina solar farm courtesy of

Gigaom
We know at Apple that climate change is real and our view is that the time for talk has passed and the time for action is now. We've shown that with what we do.
Though highlighting the solar farm as good for the environment, Tim Cook also pointed towards the fiscal benefit of such a decision, explaining that there's a significant price difference between the fixed price of renewable energy and the price of brown energy. "We're thrilled to continue on the course of leaving the world better than we found it," said Cook.
Apple has already built a series of large solar farms in North Carolina, but at $850m, the Monterey County solar farm will be its most ambitious project yet.
Update: Apple will be partnering with First Solar and contributing $848 million to the First Solar California Flats Solar Project in Monterey County, California. Apple will be receiving 130 megawatts of the solar project under a 25-year power purchase agreement, with the remaining 150MW being sold to Pacific Gas & Electric.
Construction on the California Flats Solar Project will begin in mid-2015 and will finish by the end of 2016.