Apple Watch Sightings Picking Up Ahead of Official Launch
With just three months to go until the Apple Watch's April release, Apple is hard at work field testing the device, and hundreds of Apple engineers, employees, and testers are wearing the Apple Watch on a regular basis to help Apple iron out last minute bugs and issues.
Due to the large number of employees testing the device, Apple Watch sightings in the wild have become more common over the course of the last few weeks. On the MacRumors forums, readers are aggregating photos and stories of device sightings, giving us an in-use look at the device that will be attached to many of our wrists in just a few short months.
One of the first major Apple Watch sightings occurred several weeks ago, when Vogue Editor Suzy Menkes snapped a photo of someone wearing the device. Rumors and speculation have suggested the arm in the photo could belong to Marc Newson, the designer who now works at Apple part time alongside Jony Ive.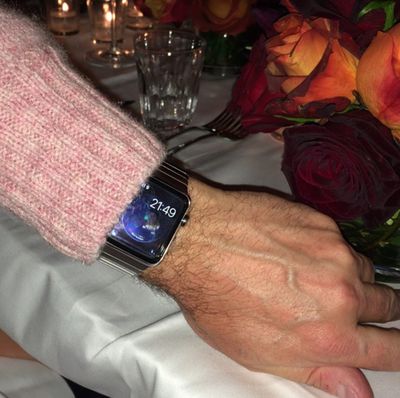 A second less-clear image of what is likely an Apple Watch was shared on Twitter earlier this week, with the photo being snapped in San Francisco's Marina area.


If you happen to live in the Cupertino area, it's quite possible you might run into an Apple employee who is wearing one of the watches. VentureBeat's Mark Sullivan recently shared a story of an Apple Watch he spotted while commuting on Caltrain. Sullivan got a bit more than a glimpse -- he had the opportunity to see the Apple Watch in action for several minutes and his account on how it was used is a great read for those who want to learn a bit about how it integrates into daily life.
According to Sullivan, the man's Apple Watch "looked proportionate" to his wrist and had a traditional look that didn't "scream for attention." Sullivan saw a text reminder pop up on the screen, accompanied by a map, and he got the impression that the Apple Watch had become an essential part of this person's life.

I want one, and I didn't even really see much of what the thing could do. But I got the distinct impression that the Watch has already become integrated into the daily life of this user. I could see it as a powerful personal assistant that's always just an arm's lift away to help you make sense of the minutiae of daily life: the schedules and reminders and appointments and social media and everything else we all have to process every minute of every day.
Apple CEO Tim Cook said earlier this week that the Apple Watch is on track to launch in April, but he did not offer a narrower timeframe that would hit at when the release could come during the month. As we creep closer to April, though, we can expect to see a lot more of the Apple Watch in the wild as employees continue testing the device.