Any.DO today announced the launch of a Mac version of Any.Do, the company's popular task management app for iOS, allowing users to manage their tasks and to-dos on multiple platforms throughout the day. While the app quietly went live last week, today marks the official launch with a major Editor's Choice feature by Apple in the Mac App Store.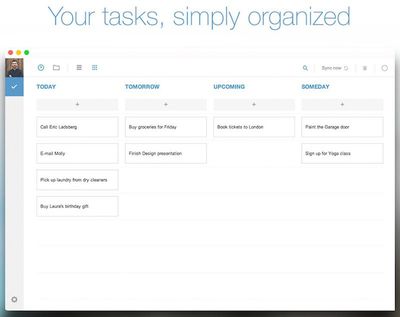 With Any.do for Mac, life is as productive as you want it to be. No need to pick up your phone or start your web browser. With one click from your desktop you get clear visibility into your daily tasks and all the same powerful planning features you've come to expect from the Any.do app. We've learned that it's the little differences that can make a big impact on your productivity, and that's why Any.do for Mac matters. Now, when you have an immediate access to your Any.do, being the best version of yourself is that much simpler.
Like its iOS counterpart, the Any.do Mac app includes basic to-do list features in addition to real-time user collaboration on tasks, voice entry, the ability to attach video, audio, photos and Dropbox files, and Any.do Moment, a daily planner feature.
While the app and service is free, Any.do also includes a premium subscription tier that gives users access to more color schemes, fully customizable reminders, location support and priority support from Any.DO's in-house support team. The subscription is regularly $4.99 a month, but is currently discounted to $2.99 a month to celebrate the launch of the Mac app.
Any.do is available in the Mac App Store for free. [Direct Link]