Chinese Company Hyperdon Sold Fake Apple Watches at CES
While Apple is rumored to be aiming for March as the launch month for the Apple Watch, Chinese company Hyperdon was at CES selling fake versions of the new Apple product called Smart Watch, according to Mashable.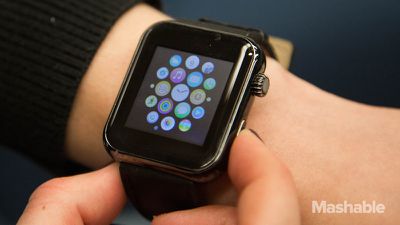 Fake Apple Watch known as the Hyperdon Smart Watch. Image via Mashable
The watch's screen only displays when it's turned on, and many of its icons are blatant ripoffs of Apple designs. The pairing process took a few tries, but once connected to my iPhone 6, I was able to make phone calls and play music through the watch. It even vibrates when I get a call.
Mashable was able to purchase the watch for $27. It comes with a pedometer, stopwatch, alarm and a feature referred to as "Anti lost", which Mashable estimated could be used to alert a user to when the watch is out of Bluetooth range.
The Smart Watch also has notifications from WeChat and other apps, but it requires downloading a "sketchy-looking APK" that appears to only work with jailbroken iPhones. It charges via USB cable and Hyperdon claims it can last for "up to 180 hours". Mashable was not able to test this claim. Hyperdon says it sells its products in retail stores in the U.S. and China, but did not detail where its locations are.
Apple has continually suffered from counterfeit Apple products in China, with authorities breaking up counterfeit iPhone rings and shutting down fake Apple Stores.