Strong iPhone 6 and 6 Plus Sales Lead to Smartphone Market Share Growth for Apple
The latest smartphone sales data released today from Kantar Worldpanel ComTech highlights good news for Apple on the strength of the iPhone 6 and 6 Plus launch, with Apple gaining share year-over-year in every country surveyed except for Japan.
The report, focusing on the September-November 2014 period, points out that Android market share dropped in most European markets and saw its first decline in the U.S. since September 2013. In the surveyed period, Apple reached 42.5 percent of UK sales, up 12.2 percentage points from the same time in 2013.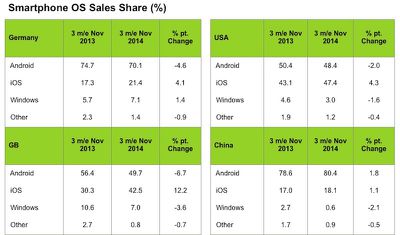 In the U.S., the Cupertino-based company's share of smartphone sales grew 4.3 points to reach 47.4 percent of the market, an unsurprising performance given the strong early sales of the company's latest iPhones. More data from Apple on October-December iPhone sales will be announced later this month when the company releases its quarterly earnings report.
Apple's strong performance is being attributed in part to enthusiasm for the redesigned bodies and larger screens of the iPhone 6 and 6 Plus, with the iPhone 6 leading the smartphone pack during the time period.
"The iPhone 6 was the best selling phone in the three months through November 2014, capturing 19% of smartphone sales", said Milanesi. Verizon and AT&T made up 57% of iOS sales while Verizon and T-Mobile were the top two carriers for Android accounting for 33.7% of all Android smartphones sold.
Despite declines in many markets, Android remains the dominant platform in Europe with 69.9 percent of the market, although that number is down 3.2 percentage points from the same period in 2013. Kantar also notes that customers switching from Android to iOS remained at a steady 18 percent from 2013 to 2014, suggesting Apple's larger-screened phones have yet to represent significant motivation for switchers.