Seagate Debuts iOS-Compatible Storage Option, Personal Cloud and Ultra-Thin Portable Hard Drive
At the annual Consumer Electronics Show in Las Vegas, tech companies often take the opportunity to unveil new products. Well-known data storage company Seagate is no exception, and is introducing three impressive new products at the show.
The new 500GB Seagate Wireless portable hard drive is the company's latest HD designed specifically for use with tablets and smartphones like Apple's iPad and iPhone, introducing additional storage at affordable price. Available in five bright colors (lime green, cool blue, slate gray, fire-engine red, and white), the hard drive offers a nine hour battery life and the ability to store media like photos and videos, which can be streamed directly to an iOS device through the Seagate Media app.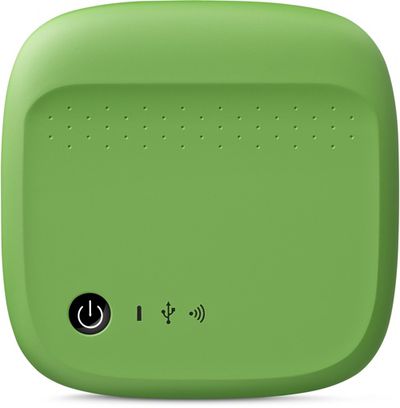 It includes a new auto backup feature for making a secondary copy of photos and videos, and it can be used for storing documents and other file types. Because it has built-in Wi-Fi, the Seagate Wireless does not need an existing network connection. The Seagate Wireless will be available in January for $129.99 from the Seagate website and through retailers like Amazon and Best Buy.
Seagate's second product, the Seagate Personal Cloud, is designed to offer an alternative to traditional server side cloud-based storage. The Personal Cloud allows users to backup their computers (with the Seagate Mobile Backup app) and store content securely on a dedicated hard drive that's located within the home rather than on a server.
Content can be accessed outside of the home much like any other cloud-based storage option through the Seagate Media app, and as a home media storage option, it can stream video and play full HD content with no buffering or lag.

Seagate Personal Cloud demystifies the often frustrating process of finding, accessing and enjoying photos, videos and music on the device of your choice. Once connected to a wireless router and after a free download of the Seagate Media app, users will be treated to an intuitive, media-rich browsing experience that makes playback of content an effortless and enjoyable experience.
The Seagate Personal Cloud can be used with any device that's supported by Seagate Media apps, including Smart TVs from Samsung and LG, many consoles, streaming media players like the Chromecast and Apple TV, and smartphones and tablets like Apple's iPad and iPhone.
The Seagate Personal Cloud can also be set up with a secondary backup to other popular cloud services, like Amazon S3, Dropbox, Google Drive, and more for additional offsite protection. There's also a Seagate Personal Cloud 2-Bay option available with two internal drives for duplicate storage.
Seagate's Personal Cloud will begin shipping to retailers in January, in 3TB, 4TB, and 5TB capacities with pricing starting at $169. The Personal Cloud 2-Bay will be available in 4TB, 6TB, and 8TB capacities as well.
Seagate's most notable product this year is the Seagate Seven, which the company is calling the world's thinnest 500GB portable hard drive. At just 7mm thick, it uses Seagate's latest mobile hard drive technology and is aimed at tech enthusiasts who want the thinnest devices. With a steel finish, the hard drive is ultra portable and is, according to Seagate, the culmination of 35 years of experience.


The Seagate Seven will be available at the end of January for $99.99 from the Seagate website and from retailers like Amazon.
Seagate is also debuting several new LaCie products, including the designer LaCie Mirror hard drive and the LaCie Rugged RAID thunderbolt hard drive.