CalDigit today announced that the follow-up to its popular original Thunderbolt Station, the Thunderbolt Station 2, is now available for pre-order with an expected ship date of January 26, 2015.
The new dock will retail for $199.99, but CalDigit is offering a limited pre-order price of $169.99 that runs all the way up to the day before release, January 25. The new station keeps the same functionality of connecting multiple devices with one Thunderbolt cable, but updates it with new Thunderbolt 2 and dual eSATA 6G ports. The Thunderbolt Station 2 also allows users a vertical orientation option the original lacked.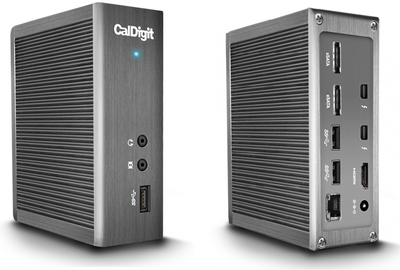 The Thunderbolt Station 2 also comes with HDMI, three USB 3.0 ports, Gigabit Ethernet, audio in/out ports, the ability to connect high-resolution 4K displays to its HDMI port, and two Thunderbolt 2 ports.
The Thunderbolt™ Station 2 allows users to connect all their devices through a single Thunderbolt™ cable. Featuring dual Thunderbolt™ 2 ports for integrating a 4K workflow, the Thunderbolt™ Station 2 allows users to connect a high-resolution 4K monitor to the HDMI port. This is ideal for professional users who need to connect modern 4K displays to their computers.

"The power of Thunderbolt™ 2 allows the Thunderbolt™ Station 2 to be the central hub of modern 4K workflows. Not only can users connect a 4K monitor, they can also daisy-chain 4K capable devices such as Thunderbolt™ storage for the ultimate 4K workflows", said Kosta Panagos, Director of Marketing at CalDigit.
The release of the Thunderbolt Station 2 sees CalDigit joining several other dock manufacturers such as Elgato and OWC who have recently caught up to the Thunderbolt 2 standard ports, which were introduced on Macs beginning late last year.
The Thunderbolt Station 2 can be pre-ordered from the CalDigit official website for $169.99 until January 25, 2015, after which it will retail for $199.99.