iPhone 6 Takes #1 Spot in Top Trending Google Tech Searches for 2014
Google today released its
"Year in Search" feature
, highlighting popular and
trending searches for 2014
in a number of categories. Unsurprisingly, a number of Apple-related search terms ranked highly among the most trending searches in the
Consumer Electronics category
, with "iPhone 6" taking #1, "Apple Watch" taking #8, and "iPad Air" taking #10.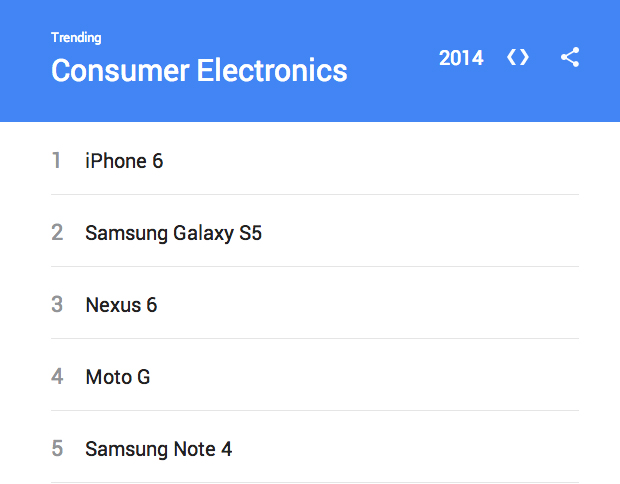 Other popular search terms in the Consumer Electronics category include "Samsung Galaxy S5" which took #2, "Xbox One" which took #7, and "Nokia X" which took #9.
Google's top 10 overall trending searches
of the year did not include any tech products, however Dong Nguyen's ultra-popular app
Flappy Bird
did take the #6 spot.
Last year, Apple-related terms like "iPhone 5s", "iOS 7", and "iPad Air" ranked highly among the
most popular Google searches for 2013
, coming in at #3, #11, and #68, respectively. Apple-related terms also performed strongly in the trending tech category last year, with the iPhone 5s, iPhone 5c, iPad Air, iPad mini, and even the iPhone 6 all placing among the top ten.