Other World Computing (OWC) today announced new 1TB and 2TB Aura SSD upgrades designed for the Mac Pro, offering Mac Pro owners a way to upgrade the storage in their machines without needing to purchase upgrades directly from Apple.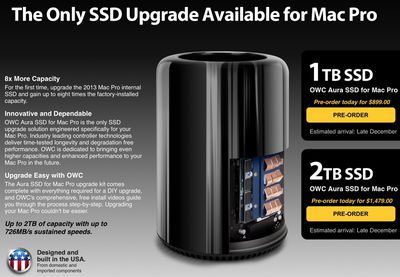 Apple's 1TB upgrade option costs $800 over the base 256GB SSD option, and while OWC's 1TB upgrade option is priced slightly higher at $899, it gives users an option to convert their existing SSD into an external USB 3.0 drive.
Apple offers a maximum of 1TB of storage, so OWC's 2TB solution, priced at $1,479, is a good solution for users who are looking for additional storage for their Mac Pros. The 2TB option also comes with a kit for converting an existing SSD into an external USB 3.0 drive.
The kits, which are available for pre-order, come equipped with the tools needed for a do-it-yourself storage upgrade, a step-by-step installation video, and tech support provided by OWC. The kits are expected to ship in two to three weeks.