Apple's OS X faced an increasing number of malicious attacks in the past year with antivirus firm Kaspersky Lab noting roughly 3.7 million infection attempts blocked by its software, the firm reports in its 2014 Security Bulletin (via The Telegraph). The annual report quantifies malicious activity by analyzing attacks blocked by Kaspersky's anti-malware products.
According to the 2014 report, the average Mac user faced nine threats in the past year. The study tracked nearly 1500 new malware programs targeting OS X over the past year, 200 more than in the previous year. More than half of the detected malicious threats were AdWare modules that add links to default browser bookmark lists, change the default browser search engine, and insert advertising links in order to generate ad revenue.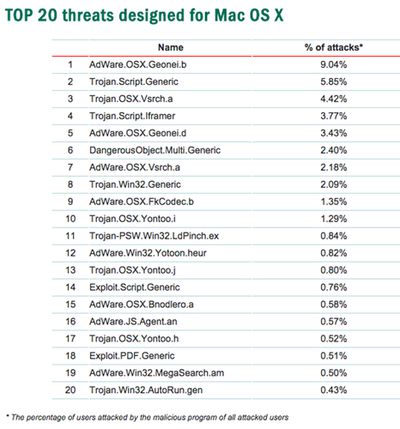 Other more serious but less prevalent threats include a Trojan keylogger, a screenshot capture program, and the Wirelurker malware that attempts to steal data from iOS devices connected to a Mac. Though increasing, the number of malicious programs on OS X is lower than what is recorded on competing platforms such as Windows. Overall, Kaspersky Lab says its software blocked over six billion malware installation attempts over the past year, meaning that OS X remains a tiny fraction of devices being targeted.
As an antivirus vendor, Kaspersky Lab naturally has a vested interest in convincing customers to adopt its products, but it also puts the company in a good position to monitor threats and collect data from those using its tools.