Black Friday Weekend: Best Deals on Macs, iPads, iPhones, Apps, and Apple Accessories
Black Friday sales below have been updated to reflect ongoing sales this weekend
While Black Friday has officially, ended, may offers continue through the weekend into Cyber Monday.

iPad Deals
Best Buy is still discounting its entire stock of iPad Air 2 tablets by $100, which is the best deal available on Apple's newest iPad. The $100 discount applies to all colors and capacities, and brings the price of the 16GB WiFi-only iPad Air 2 down to $399.
Best Buy is also discounting all of its iPad mini 3 stock by $75, dropping the price of the 16GB entry-level WiFi-only model to $324. Shoppers looking for an especially good deal may want to check out Best Buy's supply of iPad mini 2 tablets, some of which are discounted by $75 to $100.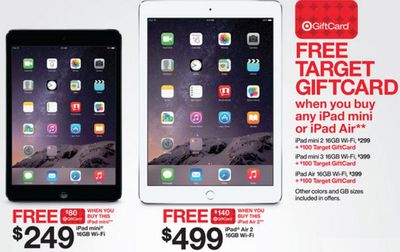 For those unable to shop at Best Buy, Target is also offering a solid deal on the iPad Air 2, providing a $140 Target gift card with any iPad Air 2 purchase (prices start at $499). Target is also offering $100 gift cards with the purchase of the iPad mini 2, iPad mini 3, and original iPad Air in all colors and capacities.

Mac Deals
Best Buy, B&H Photo, and MacMall are offering solid deals on Apple's range of MacBooks, iMacs, and Mac minis, and Mac Pros.
Best Buy:
Best Buy, for example, is selling the low-end 21.5-inch 1.4Ghz/8GB/500GB iMac for $899, a $200 discount and the lowest price we've seen on the machine. The retailer also has select MacBook Air and Retina MacBook Pro computers for $150 off.
- 13.3-inch Non-Retina MacBook Pro - $899.99, $200 off
- 21.5-inch 1.4GHz/8GB/500GB iMac - $899.99, $200 off
- 11.6-inch 1.4GHz/4GB/128GB MacBook Air - $779.99, $120 off
- 13.3-inch 1.4GHz/4GB/256GB MacBook Air - $1,049.99, $150 off
- 13.3-inch 2.6GHz/8GB/256GB Retina MacBook Pro - $1,349.99, $150 off
- 27-inch 3.2GHz/8GB/1TB iMac - $1,649.99, $150 off
B&H Photo
B&H Photo has a $200 discount on the new 3.5GHz/8GB/1TB 5K Retina iMac, dropping the cost down to $2,299, the lowest price we've seen yet. The site also has the 6-core 3.5GHz/16GB/256GB Mac Pro for $3,499, a discount of $500, and the 15-inch 2.2GHz/16GB/256GB Retina MacBook Pro for $1,699.99, a discount of $300.
- Retina iMac 3.5GHz/8GB/1TB - $2299 ($200 off)
- 13.3" MacBook Air 4GB/128GB - $889 ($110 off)
- 3.5GHz Mac Pro - $3,499 ($500 off)
- 15" Retina MacBook Pro 2.2/16GB/256GB - $1699 ($300 off)
MacMall:
MacMall has activated their CyberMonday deals which lasts through Monday with modest deals on Macs and iPads.

Other Deals
Many retailers are also offering deals on an array of Apple products, with Beats headphones being a popular discount item. Many stores are also offering iPod touches, Apple TVs, fitness accessories, and more at low prices, and a list of deals is located in the roundup.
Online Retailers
- Speck - 25 percent off many of its iPhone cases
- Casetify - exclusive 25 percent off discount site wide with the discount code MACRUMORS.
iTunes Gift Cards
- $100 iTunes Gift Card Multipack - $79.47, $20.53 off
- $50 iTunes Gift Card - $39.98, $10 off
Software
- Fantastical for the iPad, iPhone, and iPad are available at the lowest prices of the year,
- Adobe Elements 13 discounted by 40 percent.
- WALTR - exclusive 49 percent off discount for MacRumors readers
- Pixelmator - 50 percent off ($14.99)
- AppShopper - running of discounts on iOS and Mac apps
Our Black Friday roundup will be updated throughout Thursday and Friday, so make sure to keep an eye on it for the best Apple deals this holiday season.
MacRumors is an affiliate partner with some of these retailers.