Apple's Eddy Cue Shows Off Apple Pay at Panera Bread, Bloomingdale's, and Disney Store in News Segment
Earlier tonight, KTLA 5's The Tech Report aired a segment (via AppleInsider) centering around Apple Pay, which featured Apple's SVP of Internet Software and Services Eddy Cue using the mobile payments solution around Santa Monica. The segment, which can be viewed here, followed Cue and reporter Rich Demuro as the Apple executive utilized his iPhone 6 Plus and Apple Pay to purchase a meal at Panera Bread, sunglasses at Bloomingdale's, and merchandise from the Disney Store.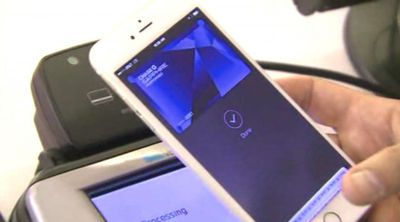 For their meal at Panera Bread, Cue is shown utilizing Apple Pay inside of the restaurant's official app to pre-order food simply and securely. At Bloomingdale's, Cue is shown using Apple Pay and his iPhone at a payment terminal to purchase sunglasses, which he is required to sign for. However, Cue was not required to sign for the two dolls he purchased at the Disney Store with Apple Pay. Cue then notes that users will sometimes be required to sign for more expensive purchases made with Apple Pay in-store.
The pair also visit an Apple Store to discuss Apple Pay on the company's new line of iPads. While users can't make in-store purchases with the iPad, Cue points out that users can still make in-app purchases with Apple Pay and Touch ID on the tablet.
Cue also spoke on the security of Apple Pay and how tokenization helps keeps credit card numbers away from malicious users:
You've seen these hacks that are happening in the systems where thousands of credit cards are getting exposed, and so you have try to protect that number. Well, with Apple Pay, the number that's being given to the terminal is a one-time number that's created for that transaction.
A report from The New York Times over the weekend shed some light on Apple Pay's early successes, noting that the service doubled mobile wallet transactions at Walgreens and accounted for 50% of tap-to-pay purchases at McDonalds. Whole Foods shared earlier this month that it processed 150,000 Apple Pay transactions between October 20 and November 6, and the service has increased consumer interest in the mobile payment area in general. Apple currently has 36 retail partners that accept Apple Pay in their stores as the service is available at more than 200,000 retail locations.