Growing Number of Users Report Crashing Issue with Latest Nest for iOS Update [Updated]
A growing number of Nest owners are reporting issues with the latest version the Nest Mobile app [Direct Link] that was released on Friday. According to posts on Nest forums, the 4.4.0 version of the app crashes immediately on launch for many users who are running iOS 8.x. This glitch reportedly is affecting recent iPhone models including the iPhone 6, iPhone 6 Plus, iPhone 5s and iPhone 5.
I just downloaded the update to the Nest Mobile App for iOS (version 4.4.0) and the App Crashes immediately upon launch. I am running the latest version of iOS (8.1) on my iPhone 5s. I had no issues with the previous version of the Nest app. I tried to delete the app and reinstall it but it still crashes when launched.

Fortunately, I still had the previous version of Nest Mobile in iTunes on my PC and was able to copy it over to my iPhone. -Nest forum member Columbus_George.
The Nest 4.4.0 update included a handful of small improvements, such as expanded weather and time zone support and improved thermometer history. Users who are experiencing the crashing glitch can restore the previous 4.3.1 version of the app from their iTunes app library.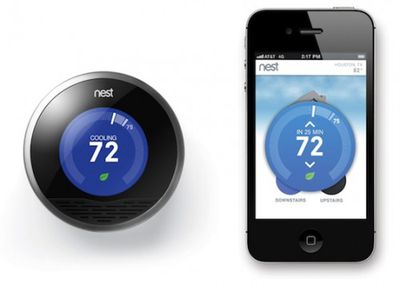 Founded by former Apple engineers Tony Fadell and Matt Rogers, Nest Labs was acquired by Google in a $3.2 billion deal that closed earlier this year. Under Google's guidance, Nest acquired video-monitoring and security startup Dropcam and opened its API to third-party products and services.
Update: Nest's Tony Fadell confirmed via Twitter that the company is aware of the issue and working on a fix. The Nest Mobile app also has been removed temporarily from the iOS App Store.
Update 2 5:00 PM PT: The Nest Mobile app has been updated to version 4.4.1 and returned to the App Store.