Nest Labs today announced the "Works with Nest" developer program, which allows its Nest Thermostat and Nest Protect products to connect to a number of services from the likes of Google, Mercedes Benz, Whirlpool, LIFX and more for enhanced smart-home functionalities.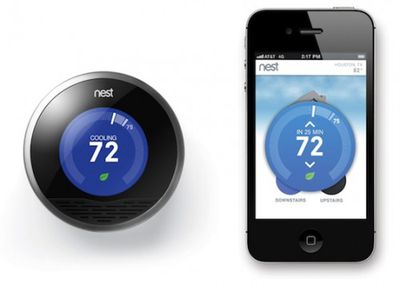 For example, Nest integration with Jawbone's UP24 band allows the smart thermostat to begin heating and cooling when a user wakes up, while the Nest Protect can connect with LIFX's bulbs to warn users of smoke or carbon monoxide. The new program will also allow users to create custom situations with popular service IFTTT, connecting the products to over 100 other products and services.
The Wall Street Journal also notes the Nest Thermostat's specific integration with Google's services, which comes after Google bought Nest earlier this year:
The integration will allow those users to set the temperature of their homes with voice commands to a Google mobile app. It will also allow Google's personal digital assistant, Google Now, to set the temperature automatically when it detects, using a smartphone's location-tracking abilities, that a user is returning home.
Nest also stated that it will allow developers of garage door openers and similar automated appliances to access and utilize user information. However, Nest co-founder Matt Rogers noted users will have to opt in for their information to be shared with Google, making it a point to emphasize user privacy:
Most of the data that Nest will share – with Google and others – will focus on whether users are at home or not, as detected by sensors on the thermostat. When people link a home device and related account with Nest, the company will not share their email address, name or home address with other companies, Rogers said.

"We're not becoming part of the greater Google machine," he said.
The news comes as a number of developers are working on products under Apple's new
HomeKit initiative
, which allows home automation devices and their apps to work with iOS services using a single, secure protocol. Companies currently lined up with Apple for HomeKit include iHome, Honeywell, Haier, Philips, Schlage, and Withings.
Last week, Nest Labs announced that it would be acquiring video-monitoring and security startup Dropcam for $555 million to further its smart home initiative. The company also restarted sales of its Nest protect app-enabled smoke detector last week after it was pulled from shelves over safety concerns.