Next Wave of Apple Pay Bank Launches Begins With Navy Federal, USAA, US Bank, PNC
Apple's October 20 debut for Apple Pay included support from many of the biggest banks in the United States, including Chase, Citi, Capital One, and Bank of America, but the company has said it has over 500 other banks working to roll out support for the mobile payments service. A few of the larger ones are listed on Apple's site as launching Apple Pay support "later this year", and it appears that this next wave is now beginning to roll out.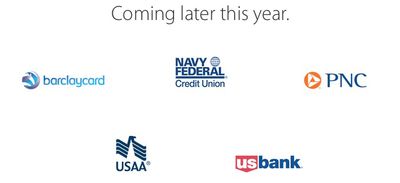 Navy Federal Credit Union, the largest credit union in the United States with over 5 million members, today announced the immediate launch of Apple Pay support.
"We're excited to make this new service available to our members starting today," said Randy Hopper, vice president of credit cards and business optimization at Navy Federal. "Our members live fast-paced and mobile lives. And, they have enthusiastically adopted our mobile banking solutions. Now, with Apple Pay, they'll be able to save time when shopping while having a safe and easy payment experience."
USAA, another of Apple's key partners for the second wave, had previously announced plans to launch Apple Pay support this Friday, November 7, but several Reddit posters have noticed that support appears to have arrived a bit early.
A third partner for the second wave, US Bank, has also apparently flipped the switch, as several posters on Twitter have reported Apple Pay support going live today.
PNC Bank has also been telling customers it will launch Apple Pay support in the "next several weeks", with one Reddit poster being given a date of November 7, but again posters on Twitter are reporting support going live today.
Update: According to a MacRumors poster, Barclaycard is also working today. M&T Bank is also working.
Update 2: Apple has updated its support document listing Apple Pay card issuers to highlight the various types of cards from the newly added banks that are supported.
Update 3: Removed mention of Regions Bank, Renasant Bank, Keesler Federal Credit Union, and Zions Bank, as multiple forum posters have confirmed these banks are not yet supporting Apple Pay, contrary to initial reports from other posters.