'Microsoft Health' App for Upcoming Wearable Leaks as Google Launches HealthKit Rival
As Apple completes the launch of HealthKit and the Health app for iOS, its competitors Microsoft and Google have been preparing their own entrances into the health sector. Today, Microsoft apps for an upcoming fitness wearable have leaked in app stores as Google launched a new HealthKit-like initiative.
In July it was reported that Microsoft was working on a fitness band that would work with iOS. Now, the official app for the device, which appears to be called the Microsoft "Band", has appeared on the Mac App Store. The "Microsoft Band Sync" app, which was first discovered by WindowsCentral, appears to allow users to sync the data on their device to the app for tracking.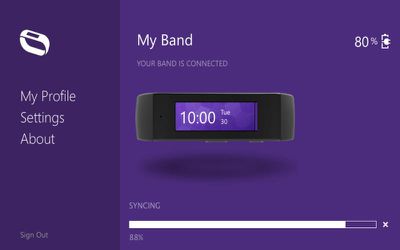 Another app called Microsoft Health has also been revealed for iOS and appears to include many of the same options as the "Microsoft Band Sync" app and also teases a future device called "Microsoft Band". A new privacy statement (via AppleInsider) on Microsoft's website also makes mention of Microsoft Band, Microsoft Health and Microsoft Band Sync.

Live healthier and be more productive with the Microsoft Health app for iPhone®. Achieve wellness goals by tracking your heart rate, steps, calorie burn, and sleep quality. Maximize your fitness with Guided Workouts, 24-hour heart rate monitoring and automatic activity counting. Be more productive with email previews and calendar alerts at a glance. Personalize your Microsoft Band and get new features as they roll out.

Although the "Band" doesn't appear to be a fully functioning smart watch like Apple Watch, it does signal Microsoft's desire to enter the health market and provides an alternative to the health-tracking features of Apple Watch or FitBit bands. Similarly, the Microsoft Health app offers an alternative to the health center that is the Health app, provided the user opts for the Microsoft Band.
Meanwhile, Google launched its version of the Health app for Android (via The Verge). Called Google Fit, the app tracks health goals and workout statistics and is compatible with Android Wear devices and third-party fitness trackers. Much like the Health app, Google Fit can also track walking, running and cycling without the use of external apps or fitness trackers.
Microsoft Health is a free universal app available in the App Store. [Direct Link]
Microsoft Band Sync is a free app available in the Mac App Store. [Direct Link]