OS X Yosemite Launch Brings Fully Functional iCloud Drive to Mac and iOS
With yesterday's launch of OS X Yosemite, Apple's iCloud Drive file storage system is now functional across the company's products. Many users were frustrated following the launch of iOS 8 last month by the incompatibility between the new iCloud Drive system used with that operating system and the previous Documents in the Cloud system used on OS X Mavericks. The difference in launch dates between iOS 8 and OS X Yosemite temporarily left some users unable to sync their documents between devices if they elected to upgrade to iCloud Drive on their iOS devices.
That issue is now fixed with OS X Yosemite launching to the public, and Craig Federighi gave a very brief walkthrough of the feature at yesterday's media event, outlining how Mac and iOS apps can automatically generate their own folders for file storage accessible across devices and platforms.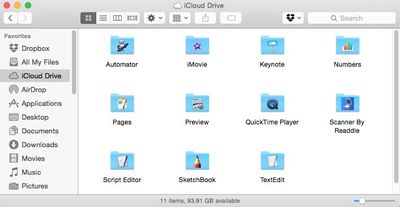 iCloud Drive can also be used in a similar manner to Dropbox, Box, and other cloud storage services in that any type of file can simply be dragged and dropped into the iCloud Drive folder on Mac or iCloud.com and be synced across devices. Access is a bit more limited on iOS where there is no iCloud Drive app allowing access to all files, but the service still allows users of iCloud Drive-enabled apps to view and save files related to that app that are stored and synced with iCloud Drive.
Apple's iWork updates yesterday extend compatibility beyond the core OS X and iOS apps, and APIs are available to allow third-party developers to offer iCloud Drive support for their apps.
iCloud Drive taps into users' general iCloud storage allotments, with all users receiving 5 GB of space free of charge. But with iOS device backups and the upcoming iCloud Photo Library potentially requiring significant amounts of space, many users will find themselves looking to upgrade to paid storage tiers, which begin at $0.99 per month for 20 GB of space and go up to $19.99 per month for 1 TB.