Facebook
for iOS was today updated to version 16, adding support for the larger-screened iPhone 6 and 6 Plus devices. The app's new look introduces a smaller top bar, a slimmer bottom bar, and text that's sized appropriately. With its iPhone 6 redesign, the
Facebook
app looks much nicer on Apple's big-screen devices.
It is unclear what other changes the update brings, as Facebook's release notes are the same notes the company has shared for the last several weeks, noting that it plans to bring App Store updates on a monthly basis.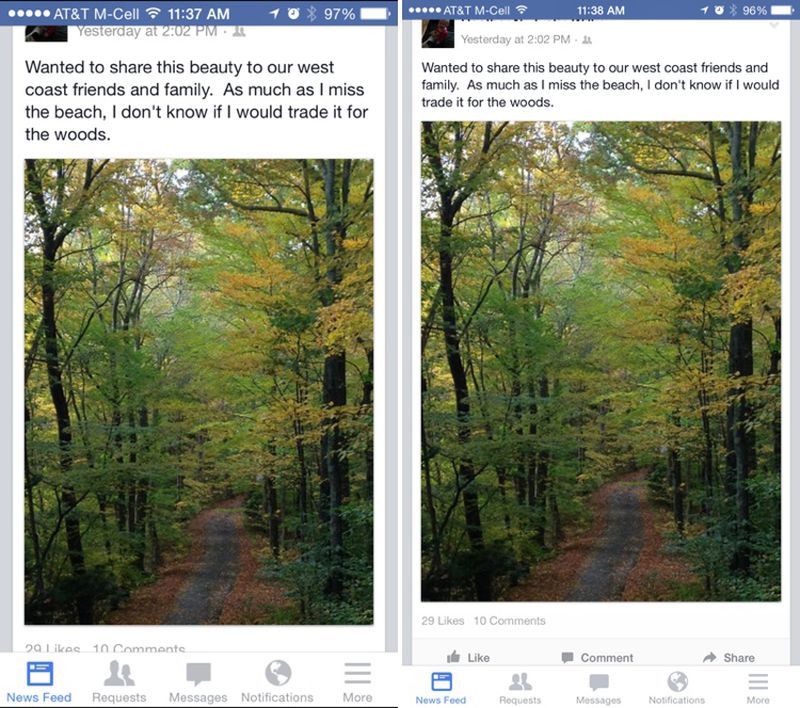 Before iPhone 6 update on the left, after iPhone 6 update on the right
Along with
Facebook
,
YouTube
for iOS has also been updated with support for the iPhone 6 and 6 Plus, again introducing a new look that does away with the zooming that apps automatically employ to fit the larger-screened phones.
YouTube
's update also brings several different bug fixes to the app.
Now updated for iPhone 6. Includes bug fixes to:
- Prevent the status bar from overlapping the UI
- Address keyboard orientation issues
- Make scrubbing more responsive
- Show all playlists when adding videos
Facebook
can be downloaded from the App Store for free. [
Direct Link
]
YouTube
can be downloaded from the App Store for free. [
Direct Link
]