Apple Rolling Out Revamped iTunes Store to iTunes 12 Users Ahead of OS X Yosemite Launch
Apple has started rolling out a new iTunes Store design for OS X Yosemite testers that have iTunes 12 installed. The revamped storefront takes several design elements from the iTunes Store and App Store on iOS, adopting a cleaner, flatter look that does away with a lot of shadowing and texture that was previously seen in the design. The revamped look fits in with the design of iTunes 12, which takes on the flatter, more iOS-like look seen across OS X Yosemite.
For example, the top bar of the iTunes Store that currently displays cards in a rotating carousel for featured music, movies, apps, and TV shows in their respective categories has been flattened out into a scrollable banner with the new iTunes Store design, doing away with the previous card-style layout.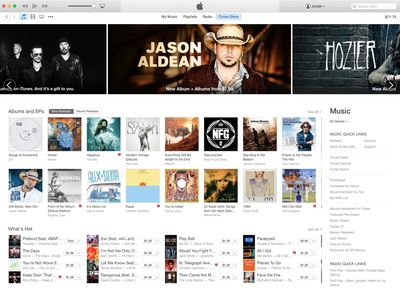 The slight bit of shadowing that used to highlight app icons, music icons, and categories, has been eliminated and as can be seen in the screenshot below, Apple is using a slightly lighter and larger font for menu options. The light gray background of the existing store has now been replaced with a white background.


Prominent rounded menu buttons have been eliminated in favor of flat, unobtrusive buttons as can be seen with the "Download" option in the individual App Store view shown below. Individual content pages have also lost all highlight shadowing, with screenshots and app icons flat against the background of the page. Movie, TV Show, and Music pages all have the same flattened design.

While main content pages now have a white background, some individual movie, app, TV show, and music pages continue to have a colored background, that also adopts all of the flat interface elements.


As noted by 9to5Mac, the new design has not yet been implemented on all pages, with some, like the gift card redemption page, continuing to use older interface elements.
iTunes 12 will launch alongside OS X Yosemite, which is expected to be released to the public in late October. The operating system may be shown off one last time at Apple's October 16 iPad event ahead of its official launch.