iTunes Users Downloaded U2's 'Songs of Innocence' 26 Million Times, 81 Million 'Experienced Songs'
U2's partnership with Apple that saw its latest album, "Songs of Innocence" distributed for free to iTunes users appears to have been a wild success, with the album reaching more than 81 million Apple customers across iTunes, iTunes Radio, and Beats Music.
Eddy Cue, Apple's iTunes chief, told Billboard that the album had been downloaded in its entirety more than 26 million times since its September 9 release, and that more than 81 million customers had "experienced songs" from the album.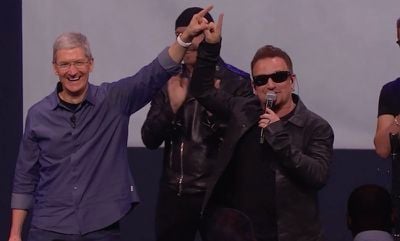 "To help put this into perspective," [Cue] says, "prior to this, 14 million customers had purchased music from U2 since the opening of the iTunes Store in 2003."
During Apple's September 9 keynote event, Bono took the stage with Tim Cook to announce that the "Songs of Innocence" album would be available at no cost to 500 million iTunes customers. Apple even went so far as to push the album to iTunes accounts, causing some devices to download the album without explicit user permission.
There was some backlash over the automatic downloads, prompting Apple to create a tool to allow users to remove the free U2 album. Despite the negativity over auto downloads, Apple announced that "Songs of Innocence" had been "accessed" by more than 33 million customers just under a week after it had been made available.
Apple's deal with U2 and Universal Music Group is worth an estimated $100 million and is said to be part of a "long-term relationship" that will see U2 continuing to work with Apple to promote innovation in music.