Apple Creates Tool for Users to Delete Unwanted U2 Album
During Apple's keynote announcement, the company announced plans to provide U2's new album, "Songs of Innocence," to all iTunes customers for free. Rather than letting customers choose to download the album on their own, however, Apple pushed it to iTunes accounts, causing some devices to automatically download the album without explicit user permission.
The move upset users who did not want to have U2's album listed on their devices, which has now prompted Apple to create a process for removing the album from user's devices. According to Apple spokesperson Tom Neumayr, who gave a statement to Re/code, customers were asking Apple how to delete the album after it was distributed, which has led Apple to create both a tool and a support document that outlines the process for removing the album from iCloud.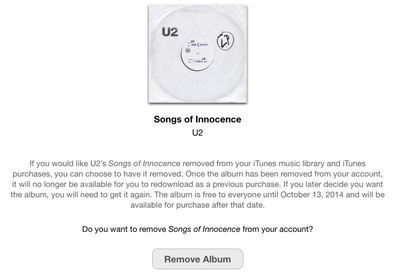 Here's Apple spokesman Tom Neumayr's explanation: "Some customers asked for the ability to delete 'Songs of Innocence' from their library, so we set up http://www.itunes.com/soi-remove to let them easily do so. Any customer that needs additional help should contact AppleCare."
To remove the U2 album, users are directed to Apple's new removal tool that will automatically remove the U2 album from an account after signing in with an Apple ID and password.
Apple warns that once the album has been removed from an iTunes account that it will no longer be available as a previously purchased album. Users have until October 13, 2014 to manually reinstall the album for free.