Skype for Mac was today updated to version 7.0, with a significant redesign that brings mobile design elements to the desktop app. The app's flatter look incorporates new icons and a new blue layout that aims to create a richer chat experience.
Skype's new mobile-style layout will help it fit right in with OS X Yosemite, expected to be released to the public later this month. OS X Yosemite also incorporates several design elements taken directly from iOS 7 and 8, the basis of the Skype mobile design.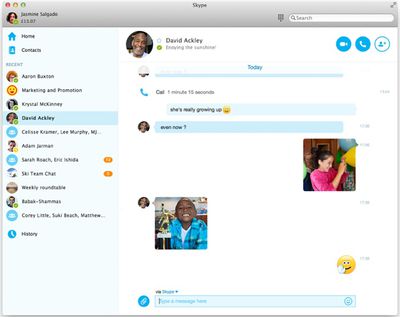 Today we're excited to announce Skype for Mac 7.0 as well as the preview for the new Skype for Windows -- both of which have been redesigned to make it easier to chat and share. If you're already using Skype on mobile, you'll recognize some of these changes. We've made the Skype experience consistent whether you are using your mobile device or your desktop PC. Now, you'll see thumbnail pictures of your contacts, a new bubble-style chat design, and consistent icons for chat, video calls and audio calls.
A chat sidebar allows users to chat and share images while on a video call with a single click, with images shown instantly once they download. Sharing of other types of files, like PDFs, has also been improved.
There's a also new bubble-style chat design drawn directly from the mobile app, and Skype says that its free group video calling has been improved in the new app.
Skype for Mac can be downloaded for free from the Skype website and existing users can update from within their Skype apps.