Claimed iPhone 6 Prototype Appears on eBay With Bids Reaching $89,000
eBay seller kimberlyk1018 claims to have received a prototype iPhone 6 by accident and is auctioning the device with bids reaching over $89,000 since the auction's posting late last week. While the high bids are undoubdtedly not genuine, the auction is obviously attracting a significant amount of attention.
According to a rather suspect story from the auction description, the device supposedly is a prototype 64 GB iPhone 6 that was shipped to the seller from Verizon Wireless.
Apple does NOT let these phones out of their possession yet I was accidentally sent one upon renewing my contract. As you can see from the photos, iOS8 has not been placed on this device, rather it is in the true developer mode. There are no FCC markings on the rear of the device or a model number. This is the real deal!!! The lightening port is red which is a sure sign of a prototype.
The authenticity of the device and the story behind it cannot be verified, but several photos that accompany the listing suggest it is not a consumer device.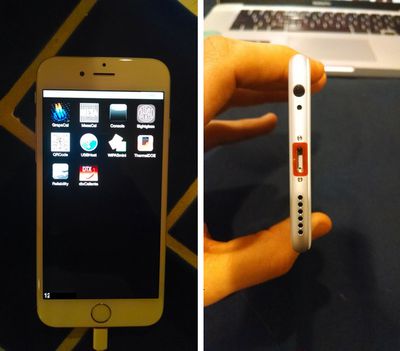 The device apparently does not include iOS 8, instead shipping with several development and testing apps that are similar to those seen on previously leaked prototypes. It also ships with a red-bordered Lightning port and lacks the FCC regulatory information that appears on all consumer iPhone models.


If authentic, this unit joins several previous prototypes that have made their way from Apple to eBay's auction listings. Most of these earlier prototypes were quickly removed from the auction website, likely at Apple's request.