Advanced Apple TV Remote Interface for iOS and Macs Outlined in Apple Patent Application
A recent Apple patent application (via AppleInsider) reveals some of the company's efforts looking into ways of improving the Apple TV and iTunes desktop experience using iOS. The newly published patent application, titled "Browsing remote content using a native user interface," describes a mobile application that would serve as a second screen for a connected media device.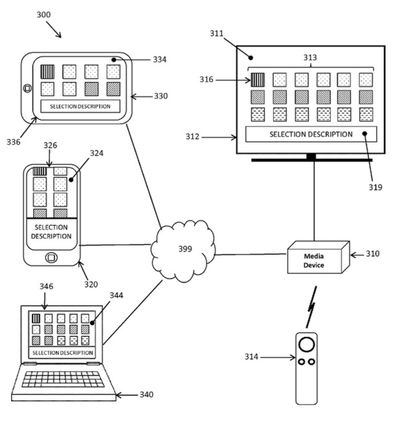 Mobile devices and computers displaying native interfaces for viewing content and sending controls to media device
This smarter iOS-based remote detailed in the patent moves away from the current Remote app that mimics a hardware remote by providing a robust Apple TV or iTunes interface on the mobile device. Users could then browse, search or perform other advanced functions right from the mobile device.
The disclosed technology relates to receiving media signals from a media device and rendering a user interface that is native to the device receiving the media signals based on information encoded in the media signals. The device receiving the media signal interprets information received from the media device describing media content and semantic information describing a type of interface page, and displays the content based on the semantic information in a graphical user interface (GUI) on the electronic device based on the interpretation.
Other descriptions in the patent application, which was filed in March 2013, suggest iOS owners could use the remote to search the web for information, such as the cast of the movie they are watching, and display that information on the big screen.
Apple is rumored to be working on a new Apple TV that could launch sometime in 2015. The company reportedly is working with cable companies to negotiate access to live and on-demand content, but has run into numerous obstacles on the content front.
The new Apple TV may include an App Store, Siri integration and more. It is not yet clear whether the device will be a cable-supported set-top box, an updated version of the current Apple TV, or a combination set-top box and streaming media device, as Apple has been rumored to be working on a variety of different options.
As with many Apple patent applications showing unreleased inventions, there are no assurances the disclosed inventions will ever be released, but they can sometimes reveal hints about the company's areas of interest and research.