Verizon today released a statement letting customers know that it no longer plans to throttle users who still have a grandfathered unlimited data plan that allows for unlimited LTE data usage.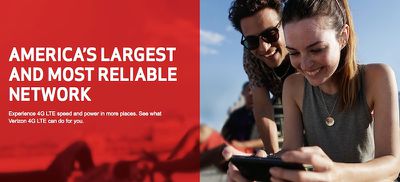 Verizon is committed to providing its customers with an unparalleled mobile network experience. At a time of ever-increasing mobile broadband data usage, we not only take pride in the way we manage our network resources, but also take seriously our responsibility to deliver exceptional mobile service to every customer. We've greatly valued the ongoing dialogue over the past several months concerning network optimization and we've decided not to move forward with the planned implementation of network optimization for 4G LTE customers on unlimited plans. Exceptional network service will always be our priority and we remain committed to working closely with industry stakeholders to manage broadband issues so that American consumers get the world-class mobile service they expect and value.
Verizon's LTE data throttling, first announced in July, was set to go into effect today. It would have seen the top five percent of unlimited data users throttled at times of peak usage, which Verizon referred to as "Network Optimization."
Verizon's plan to throttle its customers sparked quite a bit of interest from the FCC, with FCC Chairman Tom Wheeler sending the carrier a letter saying he was "deeply troubled" by the decision. Wheeler also questioned the legality of Verizon's throttling plans and though Verizon responded and its usage restrictions were permitted under current law, it appears the carrier has decided not to go through with its plans due to the response from both the FCC and its own customers.
While Verizon won't be throttling high-usage LTE customers, it has long restricted 3G data usage for unlimited users. Other carriers, such as AT&T, have also implemented LTE usage restrictions for grandfathered unlimited plans, and while the FCC is now questioning all carriers on their network management policies, no other changes have been announced.