Following a report by Droid Life yesterday, Verizon has now confirmed to Gigaom that starting October 1 the carrier will begin spot throttling of certain high-usage customers connecting to carrier's LTE network. The policy affects users on grandfathered unlimited data plans that are no longer offered and who rank in the top five percent of data users at Verizon.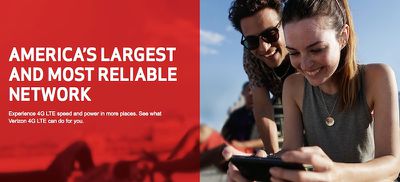 While Verizon has had a similar policy in place for its 3G network for several years, the extension of it to the LTE network that now handles 76 percent of the carrier's data traffic will be noticeable for a number of users.
On October 1, Verizon will start throttling back LTE speeds on its heaviest unlimited-plan subscribers when they move into congested cells on its networks. What that means is that when the network gets crowded, Verizon will prioritize 4G customers who buy their data by the gigabyte over unlimited plan customers who fall into the top fifth percentile of monthly data usage.

As of today, the top five percent consists of customers who use 4.7GB or more of data each month, though that number will fluctuate month-to-month as traffic patterns change.
Rather than blanket throttling of users speeds when they hit certain thresholds, Verizon will be weighing demand on individual cell sites and assigning these unlimited users lower priority and thus slower speeds than other customers during periods of high demand.
Verizon said that its new policy will only apply to customers who have fulfilled their contract terms (so if you renewed your data plan under contract in the last two years, you're safe). The policy remains in effect for a subscriber for the entirety of a billing period. If you're still in the top 5 percentile of users at the end of that month, then the throttling policy continues for another billing period. But if you're not, then all restrictions are lifted – at least until your next bill.
With the explosion in smartphone usage in recent years, carriers have been turning to throttling to help manage demand on their networks. The policies are also being used to encourage users to move away from the unlimited data plans that were popular in the early smartphone days but which have been phased out by carriers in a shift to tiered data plans in which the amount users pay is tied to their data usage.