iPhone 6 and iPhone 6 Plus Launch Day: What to Expect
Apple's iPhone 6 and 6 Plus will launch in the United States tomorrow, with Apple retail stores, carrier stores, and several major retailers offering the two devices for sale.
We've gathered up a list of U.S. locations that will be selling the iPhone 6 and 6 Plus, listed below, along with general opening times. Customers hoping for an iPhone 6 or 6 Plus are encouraged to call their local stores for specific information on opening times and potential stock.
- Apple retail stores - 8 a.m local time
- Verizon Wireless - 8 a.m. local time (Not all stores are accepting walk-up purchases, and opening times will vary)
- AT&T - 8 a.m. local time
- T-Mobile - 9 a.m. - 10 a.m local time, but opening times vary
- Sprint - 8.a.m local time
- RadioShack - 9 a.m. - 10 a.m. local time, but opening times vary
- Best Buy - 8 a.m. local time
- Sam's Club - 8 a.m. local time
- Target - Availability will vary
- Walmart - Availability will vary
- Staples - Availability will vary
At Apple Store locations, procedure will be slightly different than it has in past years as Apple will also be handing out iPhone 6 and 6 Plus units to customers who opted for Personal Pickup when pre-ordering online last week.
All customers will be directed to wait in one line until approximately 5 a.m, at which point they will be split into two lines: one for Personal Pickup and one for customers hoping to purchase a device on launch day.
Apple will hand out refreshments like coffee and water, as it does every year, and ahead of the store's opening, customers in the walk-in line (who did not pre-order) will be given a digital Reservation Pass (sent via email or SMS) to guarantee them an iPhone. This year's Reservation Passes replace the paper cards that have been handed out in past years.
Walk-in customers planning to wait in line should aim to arrive as early as possible. Many people hoping to get their hands on an iPhone 6 or 6 Plus are already waiting in line across the United States, and will wait through the night. According to multiple sources, supplies of the iPhone are expected to be low, with the iPhone 6 Plus being in extremely short supply.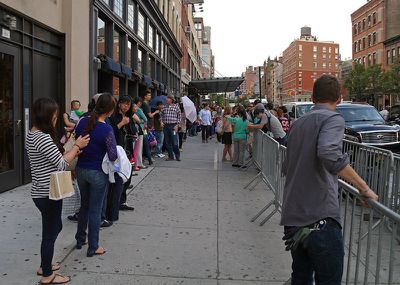 The iPhone 6 and 6 Plus are
already on sale in Australia
, and initial reports have suggested that supplies of the iPhone 6 Plus are indeed constrained. According to one
MacRumors
reader, many stores in Melbourne, Australia received only one iPhone 6 Plus unit.

As for customers who pre-ordered and plan to do Personal Pickup, arriving early is also generally recommended as the pickup line can get long as well.
Customers who pre-ordered early and selected at home shipping will also begin receiving their devices on Friday, September 19, with most shipments listing guaranteed delivery by the end of the day. MacRumors readers who are expecting shipments can join in on several threads in our forums, where readers are tracking their shipments and order statuses:
- The "I just bought/ordered/shipped/received my new iPhone 6/6 Plus" thread
- iPhone 6 & 6 Plus Sprint Pre-Order Thread!
- T-Mobile.com preorder thread
- ATT Pre-order status
- VZW Order Status Thread
- UK iPhone 6 and iPhone 6 Plus Thread
- Apple.com Pre-order thread
- iPhone 6 Launch Meetups