Photos From Inside a 747 Flying iPhone 6 Units to the U.S.
As retailers prepare to begin sending out iPhone 6 and 6 Plus pre-orders to customers, shipping company employees behind the scenes are working hard to transport the phones from China to the United States. One MacRumors reader who works in shipping has posted photos of 195,000 iPhone 6 and 6 Plus pre-orders that he flew from China to Alaska in a 747, which will then be sent on to Chicago.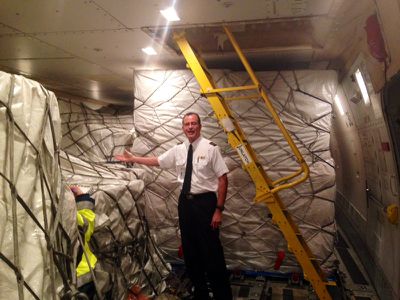 iPhone 6 and 6 Plus orders in cargo plane, courtesy of

goforblacksky

.
Yep, that's what I do. I fly stuff. Privileged to be a small part of the Apple supply chain. Just landed a 747 full of iPhone 6's in Anchorage. Another crew will take the airplane on to Chicago. It'll be on the ground at O'hare about 9am Sept. 15. I gave it a little extra gas coming over the Pacific, just to get them here a little quicker. You're welcome
According to the poster, goforblacksky, the massive load of phones weighed approximately 256,000 pounds. Though the photo shows the cargo under tarps and concealed, a second shipping photo from China Daily depicts a similar plane loaded with iPhones departing from the Henan province in China bound for Chicago last week.

Photo of a different plane being loaded with iPhones, courtesy of China Daily
Customers who pre-ordered early from carriers like Verizon have already begun receiving shipping notifications, and customers who placed orders from Apple and were lucky enough to receive a 9/19 shipping date are seeing their phone statuses listed as "Preparing for shipment." Apple orders may begin shipping out later today.
iPhone 6 and 6 Plus orders will begin arriving to customers on Friday, 9/19, which is the date that the iPhone will also begin appearing in stores. Apple will have additional iPhone 6 and 6 Plus units available for customers willing to wait in line and purchase in store on that date.

Photo looking down inside the airplane at iPhone 6 and 6 Plus orders, courtesy of

goforblacksky


Currently, all pre-orders for the iPhone 6 and 6 Plus have sold out. iPhone 6 orders placed on Apple's online store now have shipping estimates of 7 to 10 days, while iPhone 6 Plus orders have shipping estimates of three to four weeks.