Tim Cook: Steve Jobs' DNA Will Always Be the Foundation of Apple
Following today's media event that saw Apple revealing two new iPhones, a wearable device, and its payments initiative, Tim Cook did an exclusive one-on-one interview with ABC News' David Muir.
In a clip of the interview shared by ABC News, Muir asks Cook if he was thinking about Steve Jobs' during today's event, which took place at the Flint Center at De Anza College, the same location where Jobs unveiled the original Mac in 1984. Cook responded that he thinks of Jobs all the time, and that he believes Jobs would be "incredibly proud" to see the company today.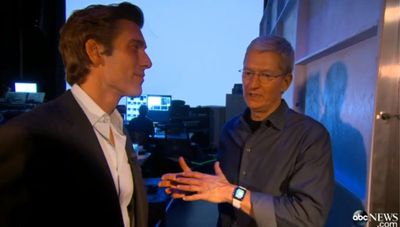 I think about Steve a lot. I love Steve dearly. There's not a day that goes by that I don't think of him. This morning, being here, I especially thought about him and I think he would be incredibly proud to see the company that he left us -- which I think was one of his greatest gifts to mankind, the company itself -- be doing what it's doing today. I think he's smiling right now.
Jobs apparently was not aware that an Apple Watch was coming, as Apple began work on the device after his passing. According to Cook, though, the "foundation" that Jobs left can be seen in all of the work that Apple is doing today.
His thinking and his taste and his incredible perfectionist kind of view, and his view that you should always innovate, all of those things are alive and well in the company. And I think they always will be. I think his DNA will always be the foundation of Apple.
More of Tim Cook's exclusive interview with David Muir will be available on World News Tonight later today.