Hands-On First Impressions of Apple's New Payment Initiative, Apple Pay
Alongside the Apple Watch and iPhone 6, Apple today unveiled Apple Pay, its mobile payments initiative that allows users to pay for items either by waving their iPhone or Apple Watch at a checkout counter or by using Touch ID after clicking the Apple Pay button in an app like Uber. Following that event, Apple invited members of the press to try out the new payment service with the iPhone 6 and iPhone 6 Plus.
According to The Verge, the system worked "remarkably smooth" and was the "smoothest payment system" they've seen. They note that Touch ID adds a "real sense of security" and that the entire process is cohesive. However, they do wonder whether it'll work the same in the opening months of the service when retailers are adjusting to the process and the software is in early days.
The phone was loaded up with a handful of credit cards, and holding the top of the phone about an inch from the card reader with my thumb on the TouchID home button triggered a payment from the default card in about five to 10 seconds. If you want to use a different card, just leave your finger off the home button and you'll see a Passbook-style card stack at the bottom of the screen, which you can tap on to bring up the full list and pick the card you want. Then you just put your finger on the reader and you're good to go.
Slashgear agrees that the process is "pretty darn easy", noting that using the iPhone to pay for something is far more of a swift experience than pulling out a credit card, swiping it, and typing in a pin or signing a receipt. Users can add credit cards to Apple Pay by taking a photo of their card.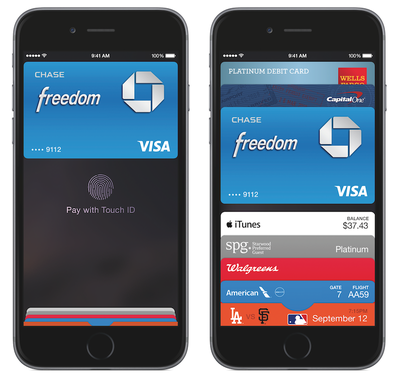 Setup involves either granting Apple Pay access to whatever existing credit card you have on file with iTunes or adding a second card: you can do that by taking a photo of the card itself. We've seen the same system used in Uber's app, among others, and generally it does a solid job of recognizing characters.

In an interview with ABC's David Muir, Tim Cook commented that Apple Pay is "incredibly safe" and that Apple is setting a high bar with Apple Pay. Cook went on to say that "it's the most secure thing out there" when told by Muir that some people's confidence in the company's security might be shaken after celebrities iCloud accounts were hacked.
Muir also asked Cook whether he thought Apple killed the credit card with the announcement of Apple Pay. Smiling, Cook replied that Apple "stuck a dagger in it". The Apple CEO finished his interview by noting that components from either the iPhone 6 or Apple Watch were built in 22 of the 50 states in America.
Apple Pay will roll out to 222,000 retail locations across the country. The service will launch next month as a part of iOS 8.