Apple's Larger Phones May Be Called iPhone 6, iPhone 6 Plus
Though Apple is planning to unveil two iPhones tomorrow, in 4.7 and 5.5-inch varieties, there's been surprisingly little information on what the two devices might be called. According to a new report from Mac Otakara [Google Translate], Apple will refer to the smaller 4.7-inch iPhone as the "iPhone 6," while the larger 5.5-inch version will be called the "iPhone 6 Plus."
It is unknown what source Mac Otakara derived its information from, but the site has provided accurate predictions in the past. MacRumors has also heard the iPhone 6 and iPhone 6 Plus monikers from a second source, but it remains unclear if that is indeed Apple's naming plan.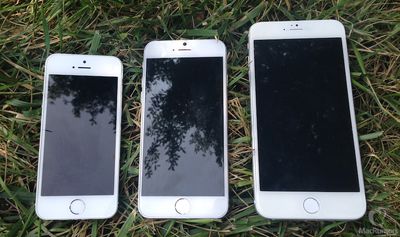 iPhone 5s next to physical mockups of 4.7-inch and 5.5-inch iPhone 6



Interestingly, the "plus" naming schematic actually dates back to very early iPhone rumors, where the device was reportedly referred to as the "iPhone Math" in a mistranslation that many assumed meant "iPhone Plus." Other possible names for the 5.5-inch iPhone included "iPhone Air," a term that surfaced from Chinese media sources and seemed to fit in with the rest of Apple's "Air" lineup, including the MacBook Air and the iPad Air."
With approximately 24 hours to go until Apple's September 9 media event, it won't be long before we find out the official names for the two devices. Along with the iPhone 6, the event is also expected to see the unveiling of the much-anticipated "iWatch" and Apple's mobile payments service.