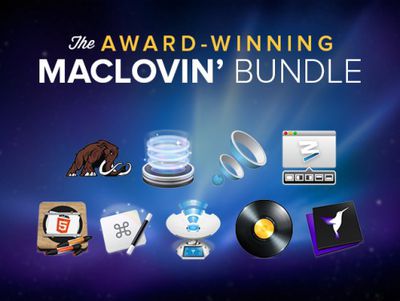 StackSocial is currently offering a bundle of 8 Mac apps, featuring several that have won awards from Apple and Macworld. All buyers receive the following apps for just $39.99, a significant discount compared to the total retail value of $362:
- Cinemagraph Pro ($100)
- djay ($20)
- NetSpot Pro ($149)
- Keyboard Maestro ($36)
- Hype 2 ($30)
- Dropzone 3 ($10)
- Moom ($10)
- Boom ($7)
Notably, djay was included in Apple's "Best of Mac App Store" list in 2011 and was updated earlier this year to include full Spotify integration. Cinemagraph Pro was selected as an Apple Design Award winner at WWDC in June.
The first 5,000 buyers of the MacLovin' bundle also receive the OS X App Masterclass, a Mac app development e-learning course that has a retail value of $499, which bumps the total retail value of the bundle to $861.
The MacLovin' bundle is available through August 19.
MacRumors is an affiliate partner of StackSocial.