Djay Adds Full Spotify Integration and Auto-Matching of Currently Playing Songs
Algoriddim, makers of the popular DJing software Djay, have solved one of the app's biggest problems with a new update out today. Thanks to a new partnership with Spotify, the subscription music service, Djay now offers direct access to Spotify's full music library of more than twenty million songs.
Previously, users could only mix and play songs that were stored locally on their iPhone or iPad, which was fine for professional DJ's using the software, but a significant limitation to users looking to play around at a backyard barbecue.
With twenty million songs at their fingertips, users may feel overwhelmed by the choices at hand -- but Djay and Spotify have a solution to that problem too. Earlier this year, Spotify acquired The Echo Nest, a "music intelligence company" that analyzes songs to recommend songs that would go well together.
As a result, Djay will analyze a currently playing track and make recommendations based on BPM, key, musical style, and how well a song mixes with the current track. There is also an Automix Radio feature that will automatically pick and play songs that go well together, beatmatching them for DJ-style transitions.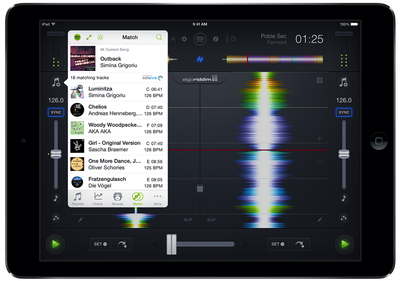 The Spotify integration, a relative rarity for standalone apps, shows what Apple could be looking for with its rumored Beats music service acquisition. A subscription music service API built-in to iOS could unleash a whole new category of apps to give the iPhone and iPad a unique differentiator from Android, especially if Apple were to bundle the service into the cost of the device itself.

"Having more than 20 million songs instantly at your fingertips is a DJ's dream come true. It gives djay 2 users endless creative possibilities and elevates the artform of DJing to a new level," says Karim Morsy, CEO of Algoriddim. "The power of The Echo Nest driving track selection brings a new tool to the DJ that I could not have ever imagined possible. It truly helps to discover, explore, and find great new music that sounds amazing together."

"Not only can Spotify Premium users DJ millions of songs, but they'll also enjoy real-time, intelligent suggestions on what to play next, powered by The Echo Nest's analysis of all the music on Spotify," says Sten Garmark, VP of Product at Spotify. "Djay 2 will help DJs and regular music enthusiasts, regardless of their skill level, select the perfect songs for their set - or simply lean back and let djay 2 turn any Spotify playlist into a slick DJ set for parties or private listening."
Djay
also revealed that it has more than 10 million downloads across all its platforms, a number that connects nicely to the 10 million global subscribers that Spotify
announced yesterday
.
Djay owners looking to use Spotify will need to sign up for a $10/month Spotify Premium account, though Djay users will be able to take advantage of a special 7-day free trial even if they have previously used a Spotify Premium trial. Premium includes ad-free music, the ability to download tracks to listen offline, and full mobile support.
To celebrate the new partnership, Algoriddim is offering Djay 2 for iPhone as a free download and Djay 2 for iPad for half-price, $4.99, for a limited time. Both are available from the App Store. Djay for Mac does not include Spotify integration, but the company didn't rule it out as a future possibility. [Direct Link: iPhone, iPad, Mac]