Intel Preparing to Launch New Xeon Processors for Potential Mac Pro Upgrade
After nearly three and a half years with only a minor processor bump, Apple late last year launched its redesigned Mac Pro, moving to a compact cylindrical design relying on a slew of Thunderbolt 2 ports for expandability. While the new machine began shipping in the last few days of 2013, extreme shortages of the machine persisted for months and it wasn't until two months ago that shipping estimates reached the "within 24 hours" level and Apple's own retail stores began stocking the Mac Pro for immediate purchase.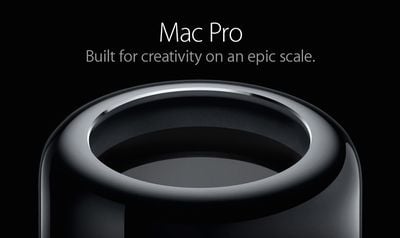 Potential Mac Pro customers may now, however, be starting to look forward to the first update for the redesigned Mac Pro, as Intel appears set to launch new processors appropriate for the Mac Pro next month. As highlighted by Macworld UK, Intel's "Grantley" Xeon E5 v3 chips are nearly ready to ship as successors to the current "Romley" Xeon E5 v2 chips used in the Mac Pro.
Intel announced last month that it had begun shipping at least some versions of the new Xeon E5 v3 chips to server makers, and widespread availability is reportedly set for September. ChipLoco outlined a significant set of E5-2600 v3 series chips, including several that recently became available for pre-order and could be used as an upgrade to the current top-of-the-line 2.7 GHz 12-core E5-2697 v2 chip found in the Mac Pro.
The direct successor to the current chip is the 2.6 GHz 14-core E5-2697 v3 chip, although the new chip does come with a higher thermal rating and it is unclear whether that change would have any impact on Apple's willingness to use the chip in the Mac Pro. Other variants in the new high-end E5-269x v3 series range from 12 to 18 cores.
Below the top end, Apple currently uses E5-1600 v2 series processors, and Intel is reportedly preparing a full set of successor v3 chips for launch next month.
- 4-core: 3.7 GHz E5-1620 v2 moves to 3.5 GHz E5-1620 v3 or 3.7 GHz E5-1630 v3
- 6-core: 3.5 GHz E5-1650 v2 moves to 3.5 GHz E5-1650 v3
- 8-core: 3.0 GHz E5-1680 v2 moves to 3.2 GHz E5-1680 v3
As with the E5-2600 v3 series chips, these E5-1600 v3 series chips come with higher thermal ratings than their predecessors. All of the new chips in both series also support faster DDR4-2133 memory, which will also contribute to improved performance.
On the graphics side, Apple uses customized versions of AMD's FirePro series of high-end graphics cards, although Apple's D300, D500, and D700 options can be roughly equated with AMD's W7000, W8000, and W9000 on the PC side. Over the last several months, AMD has been updating its FirePro cards, culminating with this week's introduction of four new cards, including the W7100 successor to the W7000 card. Alex4D summarizes how the W9100/W8100/W7100 cards introduced in recent months compare to their predecessors and collates a handy comparison chart showing how these new and old cards compare to Apple's D-series cards.
At each level AMD have at least doubled the VRAM, added 40% more stream processors. The W8100 and W9100 have wider memory buses (so more information can be transferred for each command) and many more transistors.

Although Apple can specify any number of stream processors, clock speeds or VRAM, these more recent cards show what AMD considers is the low-, medium- and high-end when it comes to PCs. For Mac owners perspective, they show how much card for a similar amount of money AMD can now make compared with the cards in the Mac Pro and 2012.
As for when updated Mac Pro models might arrive, that remains unclear, but the good news is that the pieces supporting a potential upgrade are starting to fall into place. While Intel's new processors are reportedly scheduled to arrive next month, it is unlikely a Mac Pro upgrade is that close given Apple's usual iPhone focus for that month. But it seems possible an upgrade could be in the works by late this year or early next year depending on how Apple decides to space out its product launches and at what point it views the Mac Pro as in need of a boost.