Apple Bans Two Hazardous Chemicals From Final iPhone Assembly Process
Apple announced today that it is banning the use of benzene and n-hexande, two potentially hazardous chemicals, during final assembly for both iPhone and iPad, according to the Associated Press. Benzene is a carcinogen that has been linked to leukemia when not handled properly and n-hexane has been linked to nerve damage.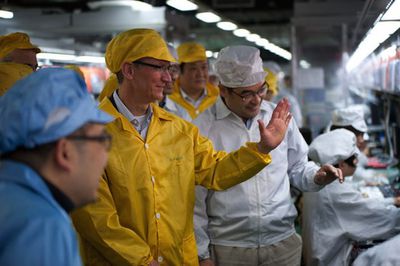 The decision announced Wednesday comes five months after the activist groups China Labor Watch and Green America launched a petition drive calling on Apple Inc. to abandon the use of benzene and n-hexane in the production of iPhones.
The Cupertino company conducted a four-month investigation at 22 factories and found no evidence that either benzene or n-hexane endangered the 500,000 workers at those factories. Four of the factories had traces of the two chemicals at "acceptable safety levels" while the other 18 contained no trace of either.
Still, Apple decided to order its suppliers to stop using the two chemicals for final assembly for iPhones, iPads, Macs, iPods and accessories. The factories will also be required to test all substances to make sure the chemicals aren't present, even if they're not listed in the ingredients. The two chemicals are often found in cleaner used on machinery and electronics.
However, Apple will still allow benzene and n-hexane at plants responsible for the early production phase of its devices, which are, for the most part, different from the final assembly plants. Apple is lowering the maximum amount of the two chemicals that can be used during early processes.
Lisa Jackson, Apple's VP of environmental initiatives, told the AP that the company wanted to be "responsive to concerns" and "crack down on chemical exposures".

"We think it's really important that we show some leadership and really look toward the future by trying to use greener chemistries."
The two chemicals aren't exclusively used by Apple's manufacturing processes, as other large tech companies have faced the same criticisms. Small traces of benzene can also be found in gasoline, cigarettes, paints, glues and more.