Apple Welcomes Beats to the Family as Beats Electronics Closes Its Online Store
Apple today updated its website with a new page celebrating its acquisition of Beats Electronics and Beats Music.
Today we are excited to officially welcome Beats Music and Beats Electronics to the Apple family. Music has always held a special place in our hearts, and we're thrilled to join forces with a group of people who love it as much as we do. Beats cofounders Jimmy Iovine and Dr. Dre have created beautiful products that have helped millions of people deepen their connection to music. We're delighted to be working with the team to elevate that experience even further.

And we can't wait to hear what's next.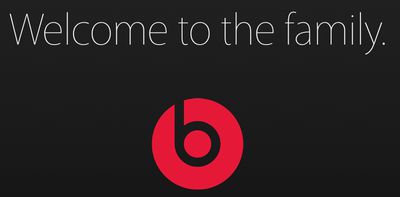 The page also links visitors to the the front page of the revamped Beats Electronics website, which contains a message from the Beats team about joining Apple.
As part of these changes, Beats Electronics also has confirmed the closure of its online store. Going forward, all transactions will be handled through Apple's Online Store and customers are advised to contact Apple about purchases made after August 1, 2014.
Apple's acquisition of Beats Electronics and Beats Music is moving forward, with the deal recently receiving regulatory approval from the European Commission. U.S. regulators are expected to weigh in on the deal in a decision to be announced sometime this quarter.
In other acquisition news, Bloomberg also reported that Vivendi sold its 13 percent stake in Beats Electronics to Apple for $404 million. This stake was held by Vivendi's Universal Music Group.
Update 7:48 AM: Apple has confirmed to TechCrunch that U.S. regulators have indeed signed off on the deal, finalizing Apple's acquisition of Beats.