Sharp's 'Free-Form Displays' with Ultra-Thin Bezels Make New Display Shapes Possible
Sharp today announced its upcoming "Free-Form Display" technology that will allow the company to nearly eliminate the traditional bezel that surrounds LCD displays. As a result, Sharp will be able to build LCD panels in nearly any shape to conform to the display area of the intended product.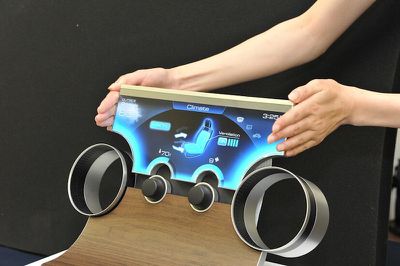 Conventional displays are rectangular because they require a minimal width for the bezel in order to accommodate the drive circuit, called the gate driver, around the perimeter of the screen's display area. With the Free-Form Display, the gate driver's function is dispersed throughout the pixels on the display area. This allows the bezel to be shrunk considerably, and it gives the freedom to design the LCD to match whatever shape the display area of the screen needs to be.
As an example, Sharp demonstrates a prototype display for a vehicle dashboard, with the display conforming to the shape of the main instrument panel, but the company also address the possibility of using the technology for "wearable devices with elliptical displays".
The concept of non-rectangular LCD displays naturally ties in to Apple's rumored iWatch, which at least one analyst believes will include a round display, although most recent rumors have suggested the device will use an OLED display. Still, advancements in LCD technology that would allow for non-traditional display shapes open the door to many different possibilities for future devices, particularly as wearables appear set to become an increasingly significant focus for mobile device companies.
Reducing bezel thickness on traditionally shaped devices such as the iPhone and iPad has also been a goal for Apple, seeking to maximize display size relative to the overall device size. Sharp's technology could serve to push this effort even further, and issues with devices registering unintended touches from simply holding the device should be minimized as Apple has already developed software solutions for recognizing those touches as part of the development of the iPad mini and iPad Air.
Sharp has not announced when its Free-Form Display technology will be ready for use, noting only that will enter mass production "at the earliest possible date."