Home Screen Widget 'Blocks' Imagined in New iOS Concept
One of the more popular feature requests from iOS users has been live widgets for the home screen, similar to Live Tiles on Windows Phone and Widgets on Android. While there have been no specific rumors of widgets actually coming to iOS 8, a new concept from Jay Machalani (via The Verge) offers an excellent vision of how this could be implemented on iOS with the "iOS Block".
Here's how it works. On your iOS device you have your list of icons like you know and love. They work and look the same way as before. But, if you want more information about an app, you can simply pinch the app icon bigger and it will now become an iOS Block. There's no menu, no hidden options and no weird gestures to do. You literally make the icon bigger with your finger if you want more; it can't be simpler and more intuitive than that.

When you pinch the icon, you will see the transformation/transition into a Block and at that point you have two choices: Either you pinch it back to an icon since you got the information you need or you release your fingers and the icon will remain a Block on your iOS screen.
Malachani imagines three possible sizes for Blocks, designed to take up the space of a 2x2 grid of icons on the home screen for iPhone, iPad portrait, and iPad landscape.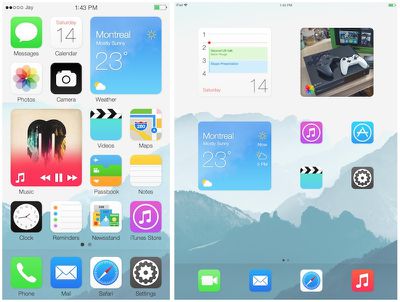 Malachani goes on to outline more details on how the Blocks would be constructed with a relative uniform layout consisting of an app icon in the lower left, a tap zone along the remainder of the bottom edge where buttons could be placed, and a content zone taking up the remainder of the Block. As examples, Malachani walks through how the stock Weather, Music, Calendar, Messages, and Photos apps might look as Blocks.
As Malachani notes, the concept is still a work in progress, as he is unsure exactly how iOS would handle moving other home screen icons to accommodate a new Block on a full home screen, as the normal method of pushing icons to the next page could be disruptive depending on how frequently Blocks are opened and closed.