Healthbook, HealthKit, and iResearch Names Revealed in Trademark Filings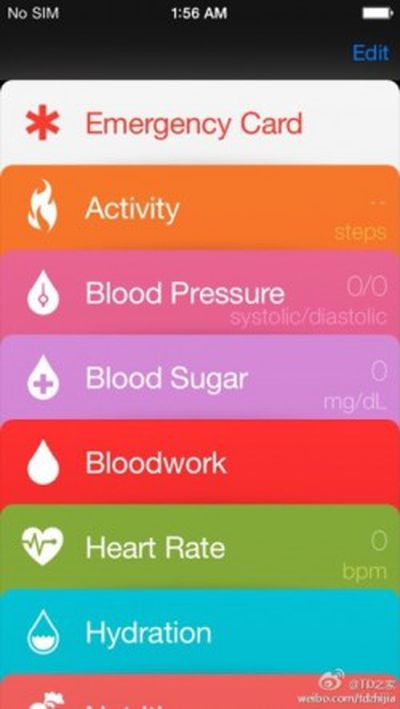 One of the major new features expected in iOS 8 is "Healthbook", a system for keeping track of and providing at-a-glance access to various types of health and fitness information. The system would be ideal for interfacing with Apple's rumored iWatch with built-in biometric sensors, but even before that device's introduction would also be useful for collecting data from sensors within the iPhone and third-party health accessories.
MacRumors has now discovered several trademark applications related to the Healthbook name, and while information on the applications available online does not directly link them to Apple, circumstantial evidence suggests that they are indeed Apple's filings. The filings were made earlier this year in Trinidad and Tobago, one of Apple's favored early trademark filing locations.
First is a pair of filings protecting Healthbook itself and a two-word variation of Health Book. Rumors and a leaked screenshot have indicated that Apple has been planning to use the one-word variation, but it is understandable that Apple would want to protect both versions. The applications were filed on February 3 of this year, just days after the name was publicly revealed.
Supporting the notion that these are Apple filings is the fact that two different trademark applications for "Apple CarPlay" were filed on the same day, roughly a month before iOS in the Car was publicly announced as having been renamed CarPlay.
Just one day later, another series of trademark applications were filed for several other terms, including HealthKit, iResearch, and iReasearch. Again, while these can not be directly linked to Apple, the timing and other circumstantial evidence suggests that these are in fact Apple's applications.
It is not entirely clear what these terms are intended to describe, although HealthKit could be a set of developer tools for Healthbook integration in much the same way Apple has named other kits such as UIKit and GameKit. The focus of iResearch is even less clear, and iReasearch could simply be a typo that was quickly corrected with another filing.
All of the new health- and research-related trademark applications are filed under four international classes: 9 (computer software), 10 (medical apparatus), 14 (jewelry and watches), and 42 (computer hardware and software development services).