Apple Introduces Education Pricing for iPad Air and Retina iPad Mini, Now Starting at $469 and $379
Apple has introduced reduced education pricing for the iPad Air and Retina iPad Mini, offering both tablets at starting prices of $469 and $379, reports iGeneration (Google Translate).
With both iPads still showing a standard retail price starting at $499 and $399, the new education pricing totals to a $30 discount on the iPad Air and $20 discount on the Retina iPad mini and marks the first time that Apple has included the iPad in the special program. Apple is also offering special education pricing on the first-generation iPad mini and the fourth-generation iPad, as well as deals on refurbished previous generation iPads.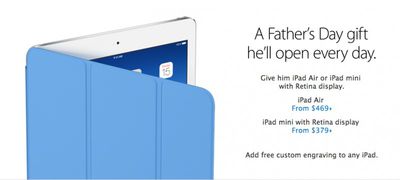 Apple previously cut education pricing on the non-Retina 13-Inch MacBook Pro to $999 last year, and also offers discounts on the entire Mac line in its education store. The discounted education pricing is available to employees of K-12 schools as well as faculty, staff, students, and parents of students at higher education institutions.