Apple Details Expanded 4K Display Support Included in OS X 10.9.3
Apple today updated its 4K display support page following the OS X 10.9.3 update, detailing the enhancements that have been made to 4K display support.
Running OS X 10.9.3, the 2013 Mac Pro and the 2013 Retina MacBook Pro now support several new 4K displays, including the Sharp PN-K321, ASUS PQ321Q, Dell UP2414Q, Dell UP3214Q, and the Panasonic TC-L65WT600. Previously, only the Sharp and ASUS displays were officially supported.
There's a new section on display adjustments and Retina scaling, introduced to allow the resolution of 4K displays to be adjusted much like the display of the Retina MacBook Pro, improving the size and readability of text and other on-screen elements.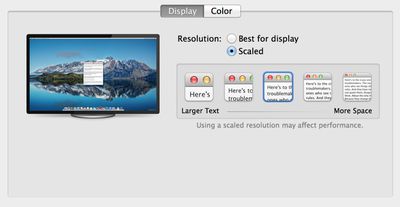 The revamped support page also notes that both the Mac Pro and the Retina MacBook Pro are now able to support 60 Hz 4K output for the five supported displays, using multi-stream transport, a feature previously limited to the Mac Pro. With the higher refresh rates, response times for tasks like game playing and video editing will be improved. Detailed instructions are given for enabling the option:
MacBook Pro (Retina, Late 2013) or Mac Pro (Late 2013) also support 60 Hz displays using multi-stream transport (MST). These displays need to be manually configured to use MST. Follow the steps below to use the display's built-in controls to enable this feature.

- Sharp PN-K321: Choose Menu > Setup > DisplayPort STREAM > MST > SET
- ASUS PQ321Q: Choose OSD menu > Setup > DisplayPort Stream
- Dell UP2414Q and UP3214Q: Choose Menu > Display Setting > DisplayPort 1.2 > Enable
- Panasonic TC-L65WT600: Choose Menu > Display Port Settings > Steam Setting > Auto

Your Mac will automatically detect an MST-enabled display. However, your display may require a firmware update to support 60Hz operation. Please contact your display vendor for details. If your specific DisplayPort display is not listed above, check with the display's manufacturer for compatibility information.
First released yesterday, OS X 10.9.3 with enhanced support for 4K displays can be downloaded via the software update tool in the Mac App Store.