Apple's Stock Price Breaches $600 for First Time in 18 Months
Apple's share price has closed above the $600 mark for the first time since October 2012, some 18 months ago. It illustrate a significant recovery for Apple's stock, which hit a low of $388/share in late June 2013.
The price is mostly psychological, made even more so by the fact that Apple will split its stock by a 7/1 ratio next month, dropping the price down to roughly $85 per share at current prices. The stock split is meant to allow more investors the opportunity to invest in the company.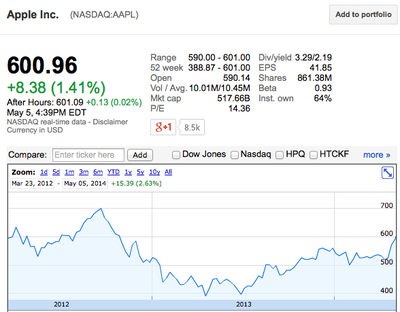 Apple's market capitalization is roughly $518 billion, well ahead of Exxon Mobil's $444 billion. Apple is the most valuable publicly traded company in the world. The company's all time high share price is $702.10, originally hit in September 2012.