Updated MacBook Airs with Improved Haswell Processors See Minor Speed Boosts
Following the introduction of refreshed MacBook Airs yesterday, Geekbench 3 benchmarking scores have begun appearing, suggesting, as expected, just minor speed improvements for the new notebooks.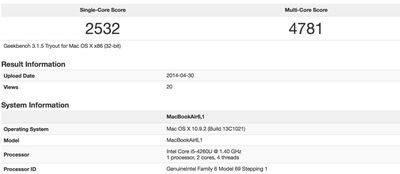 Apple only updated the low-end processor option for the MacBook Air and that is seeing 32-bit single-core scores around 2532 and multi-core scores around 4781. Compared to the 2013 MacBook Air the new processor brings just a slight boost in processing power. The 11-inch 2013 MacBook Air saw average scores of 2379/4480, while the 13-inch version saw scores of 2369/4468.

Single and multi-core Geekbench scores for the low-end 2013 MacBook Airs


Along with minor speed improvements, the new 1.4Ghz Core i5–4260U processor has also increased the battery life of some tasks, namely video playback, which has gained an extra hour on the 11-inch model and an extra two hours on the 13-inch model.
Most notably, Apple's update brought lower prices for the MacBook Air, dropping its price tag by $100 across the board in the United States and many other countries. MacBook Air prices now start at $899 instead of $999, and there are also several more affordable 2013 and 2012 options available in Apple's online refurbished store.
Though this update has not been a significant change for the MacBook Air, Apple is said to be working on a significantly improved version of the notebook with a 12-inch Retina display, a slimmer body with a fanless design, and a buttonless trackpad. This redesigned MacBook Air may launch towards the end of the year.