ElevationLab today launched a new Kickstarter project for the Elevation Stand, an aluminum stand designed for the iMac and Apple displays. Aimed at improving posture, the Elevation Stand is milled from a single piece of aluminum to match the seamless look of the iMac and Apple's displays.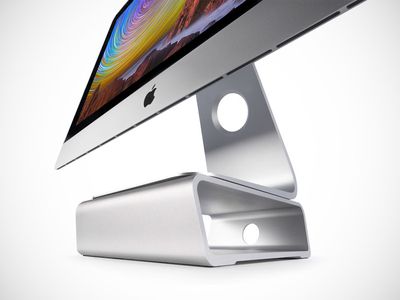 According to ElevationLab, the Elevation Stand has the smallest footprint of available iMac stands, along with a minimalistic design that hides extras like hard drives, USB hubs, cables, and more. It raises the monitor by 68mm, encouraging users to sit up straighter.
The company is also debuting the Elevation Anchor, made to keep headphones out of sight but within reach. Constructed from medical-grade silicone, it mounts under a desk to hide headphones.
ElevationLab previously produced the Elevation Dock, an aluminum iPhone dock that raised more than 1.4 million dollars.
The Elevation Stand can be preordered via a Kickstarter pledge of $59, while the Elevation Anchor can be preordered for $25. A $79 pledge gets backers a Stand and two Anchors, while additional colors are available at $85 and $99 price points. All products are expected to ship in September of 2014.